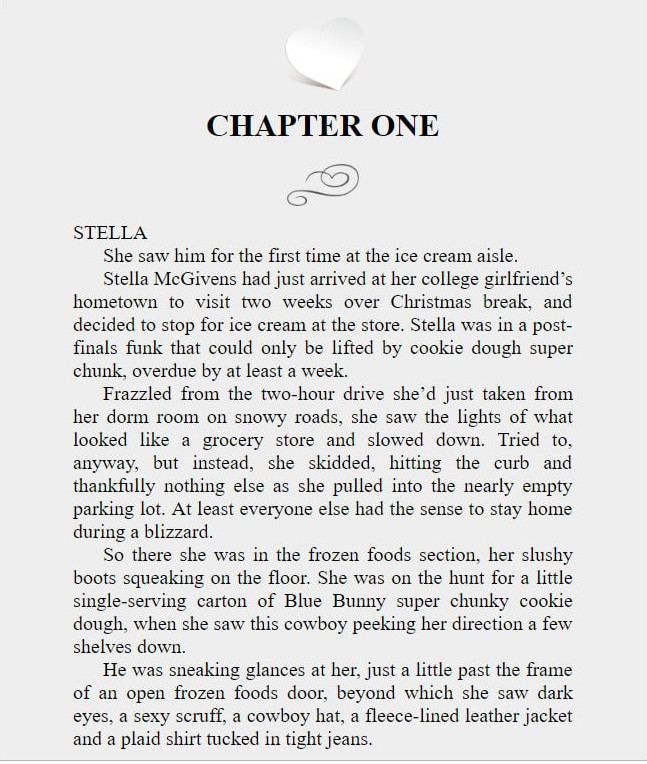 Photo: My novel, A Cowboy for Christmas, after I uploaded it to Draft 2 Digital
As an indie author, I am always looking for ways to cut down on expenses as well as keeping control over the production of my books. When I accomplish both, hallelujah.
I used to outsource my e-book formatting, and they turned out beautiful books, but I didn't like having to ask someone to tweak my documents every time I wanted to change something or my links. Plus of course, I wanted to save money.
I love Scrivener for this purpose, but I recently had some formatting issues when I pulled my Word document into Scrivener. I'd heard you could format an e-book for free on Draft 2 Digital even if you are exclusive to Kindle Unlimited but hadn't actually tried it. I finally did, and it was amazing.
I did have to tweak some things to make sure the Table of Contents worked, but I'm sure over time it will be even easier. I love how easy it is to produce a mobi, e-pub or PDF of my document, and even include little graphics that make your ebook more interesting.
Here's a how-to of formatting an ebook and PDF for free onto D2D without actually publishing your book on D2D.
1. Set up a D2D account.
2. Click on My Books on right upper hand.
3. Add a book. It will take you to a details page. Upload the Word Doc.
4. Fill in the rest of the details info. Click save and continue.
5. Edit layout (add your cover and select how you want your Table of Contents to look like), then save and continue. I had to make my chapter headings, front and back matter headings larger in my Word doc so that the program could read them as Chapter headings.
6.It will take you to a preview page.
7. Preview your doc and make sure it's as you like it. Play around with the template styles. Change your doc and reupload as needed.
8. DO NOT CLICK on the statement at the bottom left that says, "I have reviewed this manuscript and approve it for release to the sales channels I'll select on the following page."
9. Instead, click on DOWNLOAD mobi, epub and PDF buttons on the bottom right. Get your files and test them on your platforms.
That's it. I don't do anything else and just log out. D2D saves my book as a draft so I can edit it as needed, and I have files that are ready to upload.