PS I would have added photos, but am having technical difficulties. So you shall have to just use your imagination.
You know you're in Italy because the colors at the airport remind you of the stripes of a pizza box–with that orange, green and white combo echoing the Italian flag. That and because even though it's overcast, the landscape still looks like it's straight out of a movie, with that soft-focus light that makes everything lovely. My husband Drew and I have landed at Rome's Fumiciano airport and will be traveling for ten days equally divided between Rome, Tuscany and Venice.
It was a long flight from Utah with a 4 a.m. start, a Dallas connection and at least one sleep and two meals. As always with traveling, in the end, it was worth it. The Norwegian family we shared a taxi with said it's been raining here the past days, and it did today, but it's not cold. Really nice temperatures in the 70s for me in my dress and light sweater.
As Drew and I exited the airport in Rome, tour and taxi services had all these Italian men in suits holding up names of their parties. And these similarly dressed men congregated or walked along the way from our Air bnb to the Vatican. I might have billionaires on my brain a lot lately, but many of them looked like they could be models for billionaire romance covers. Seriously…men with dark well-groomed hair, clipped beards on chiseled jaws, and tanned skin, in these sharp suits.
I asked Drew if he'd brought a suit. He didn't, but he did bring slacks. His comment was, he figured this is a place where you dressed up a little bit more. And it's true. Both men and women dress well. Many women had long, shiny hair, flawless makeup, and clothes that made a fashion statement.
As I mentioned earlier, we ended up getting a taxi to our Air bnb. Someone at the airport handed our luggage to someone else…four different times until we ended up in our shared taxi. It almost felt like some super secret mafia operation. Our driver, Andre, was a good driver but insane. No room on the street? No problem. Just jumped the curb. Squeezed between a bus and one of the gazillion smart cars. Sped through tight alleys.
We are getting a taste of what Drew might have to deal with driving from Rome to Tuscany in a couple days but at least we are just traveling on freeways.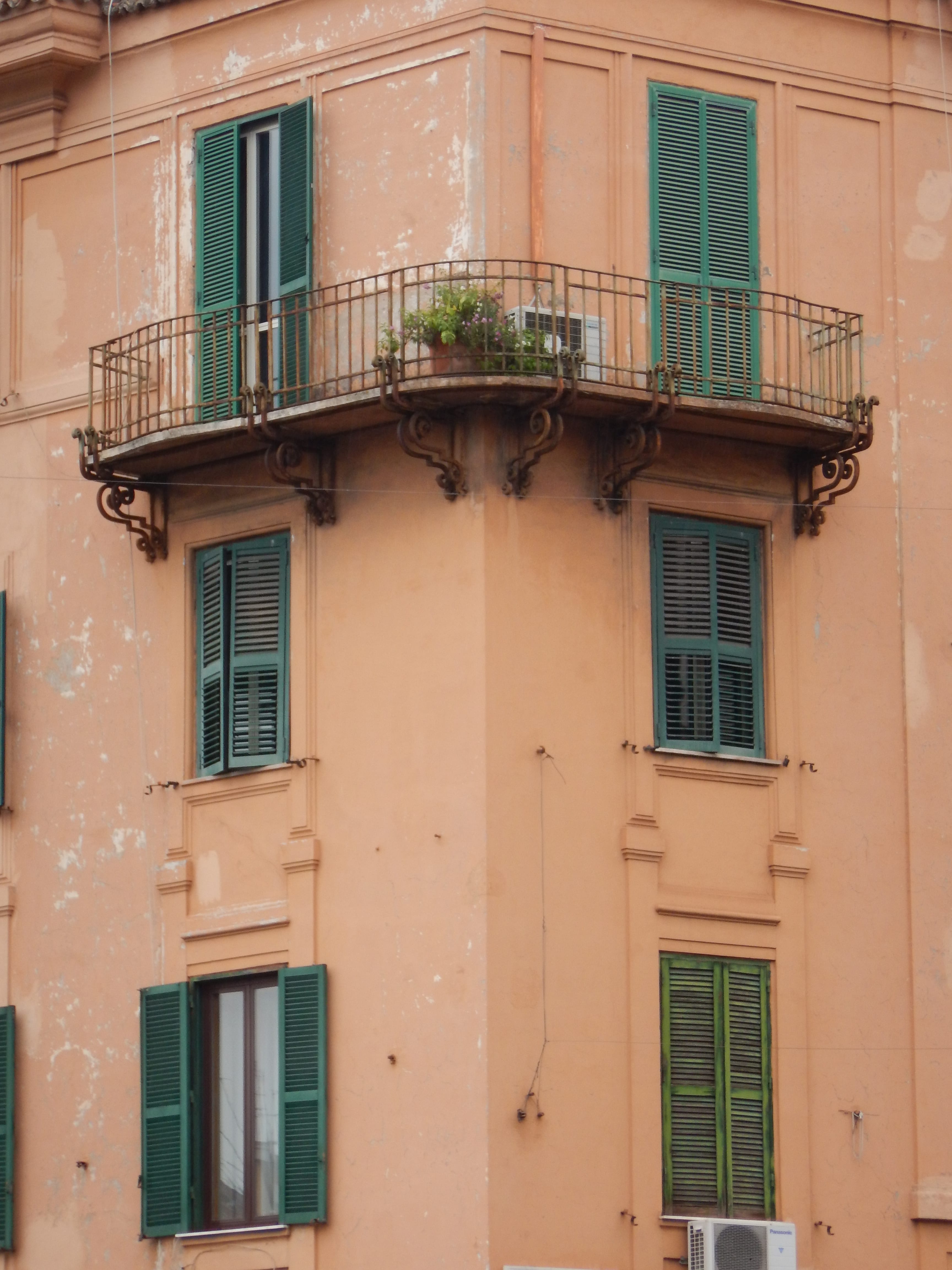 Some people get real creative parking their little smart cars. No huge honking pick-up trucks for Italian commuters. People smoke cigarettes everywhere, even at the cafes that have no smoking signs outside. There's adorable flower stands in several corners, as plentiful as graffiti. A white gloved cop standing in the middle of a five artery spoke somehow controlled the traffic at the intersection.
We passed six to eight story apartment buildings with the requisite flowers on the balcony and then reached  our Air bnb at the Trionfale district. It was a two-story walk-up with a cool circular stairwell connecting the floors. I threw open our balcony window to the nearby St. Peter's Basilica Cathedral tolling the noon hour, occasional police sirens, and the rumbling of engines.
For lunch, we bought little squares of pizza from a shop which had all sorts of pizza toppings. Shopkeepers here usually speak Italian, and somehow we communicated. We ate the pizza in a median park. Very tasty, with cheese melted just right and the cuts of Iberian ham savory.
Then we were off to the Vatican. It was already late by then, and so we skipped the Vatican Museums tour which included the Sistine Chapel. We mainly saw St. Peter's Basilica, the architecture of which reminded me of Eighteenth Century enlightenment with its stately pillars. But it actually dates to the 14th century. Swiss guards in their blue uniforms didn't look as intimidating as the modern-day Italian Army troops who stood around in fatigues.
We ate pasta for dinner.  Jet lag had caught up with us and we took turns nodding off while waiting for our orders of lasagna and ravioli–with homemade noodles, heaven. Then we went back to the Air bnb in a drizzle. It's only a little past six but we are both ready for bed, with the glow of our first day in Italy behind us. We have an early start for Pompeii tomorrow.