A great start for the day. Another beautiful sunrise. This time, as if custom-ordered, with a hot air balloon even! I could hear the gas ebb and flow as it fed the large flame. The passengers all waved down at us. What a fun way to see the Tuscan countryside!
After breakfast, it was time for us to say goodbye to Agriturismo Cesani and hit the road for Lake Garda. Drew has been a magnificent driver on this trip. Even with Google Maps, the streets can still be confusing as sometimes there are as many as twenty signs at a roundabout or intersection. But he's been able to make sense of it all.
Lake Garda was originally not on our radar. We were planning to stay in Tuscany, then go to Venice. I booked lodging inTuscany, and Drew booked Venice, but neither one of us booked for tonight. But that was okay. It was divine inspiration! Else, how could we have come to peaceful Lake Garda, with a true-blue medieval castle, the Scaliger, built in the 12th century? My head was already brimming with story ideas.
We climbed stairs up to the ramparts, where we enjoyed a breathtaking view of Lake Garda, and architectural touches such as this.
***
On our way to Lake Garda, we stopped for lunch at a gas station / rest stop, with a very nice cafeteria style restaurant in the adjoining overpass. I ordered a spaghetti and shrimp dish. I love the hearty homemade noodles. Though I admit, I will be glad to take a bit of a break from pasta, bread and rich sauces after this trip. I especially miss rice.
My hubby has been reading my swashbuckling romance The Last Princess. He started reading it on the airplane ride. I happened to be listening to the audiobook files so I can approve it for upload soon. So on the three-hour drive from San Gimignano to Lake Garda, we enjoyed the story together. There were some parts that made me swoon. My cheeks warmed at the thought that my hubby was right there listening, too.
***
We are staying at a hotel in Sirmione whose backyard is right on the rocky beach. Lake Garda is huge, ringed by hotels and homes, whose lights twinkled in the far-off distant shores. It's just a ten-minute walk down to the pier.
The sunset kicked off our romantic evening.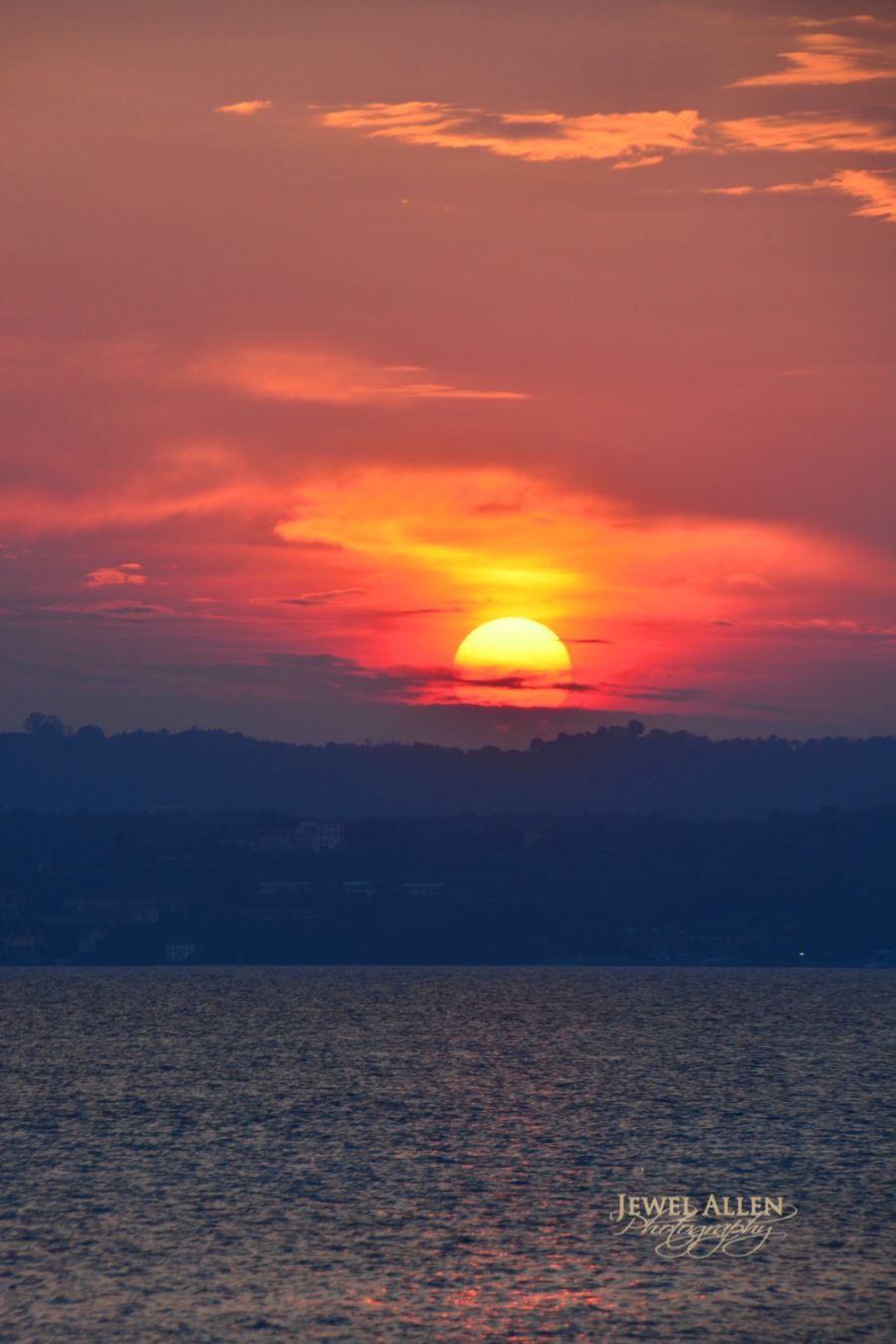 For a change, I did not have pasta nor red meat for dinner. I had giant prawns. Drew had a seabass that was very tender and juicy. Dinner was all very good. Especially because of the ambience of outside seating, a lit candle, and an uncrowded ristorante.
On the way to the restroom, I trundled over a glass covered floor. It showcased blocks–ruins from a medieval villa that used to stand in that spot.
Only in Italy.