Can you say bucket list? Although in fairness, I didn't know a gondola ride in Venice was on my bucket list until I went to Venice.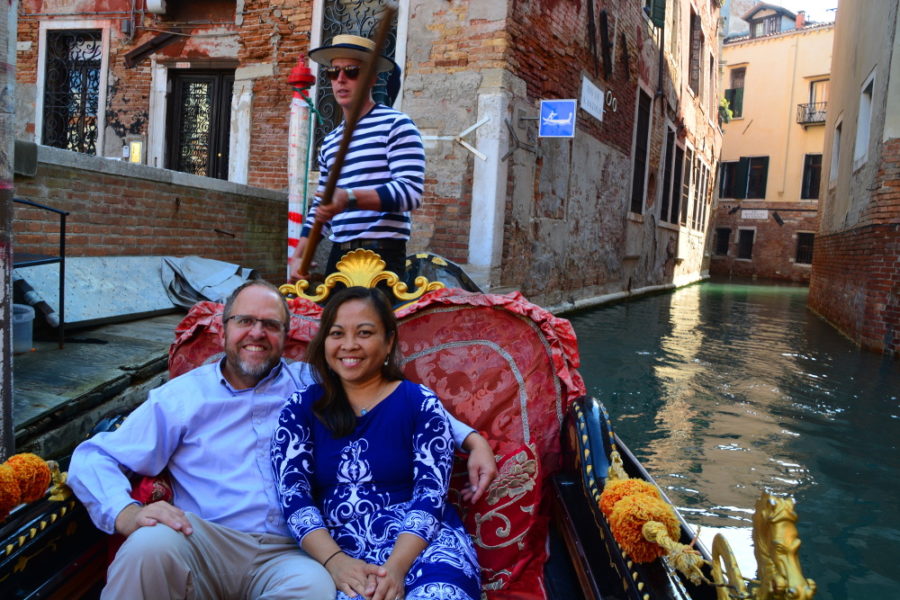 Drew and I had the lovers' seat, but we actually had two other ladies with us, Filipinas whom we met outside a building and were interested in splitting the $80 ride with us. Our gondolier was Marco. He took us on a quiet canal route under bridges and past tight corners, and I almost felt the need to break out into love song. Almost.
Venice is a beautiful city, but it is quite expensive to visit. We saved a bit on meals by stopping at crowded restaurants where patrons usually eat the little bites and portions without actually sitting at the table.
That's how I got my saffron seafood rice today, which I added to my Venetian-style liver (yummy, like a stew) for lunch at an outside restaurant next to the Giovanni e Paolo Church. Drew got the four-cheese pizza. An accordionist came up to us and I requested "That's amore," because that song has been playing in my mind all week.
Meals here run about US $20 per person. Add on top of that money for activities like the gondola ride (which we did) and trips to Murano / Burano islands to see the artisans (which we did not do)…and oy.
But…and a big but…it is a once in a lifetime experience and so worth it to experience the magic of Venice.
On our last evening, we ate gelato and Chinese food (yes, I know we were in Italy, but a bowl of hot noodle soup sounded really good). Then we listened to the orchestra at Piazza di San Marco to cap our trip of a lifetime.
Drew says that he wouldn't have gone on to Italy if it weren't for me. Maybe so, but I know I couldn't have had such a fantastic experience without him as a traveling companion. He was a terrific driver and was so sweet about doing things I wanted to do.
Like selfies. The gondola ride. A Chinese meal on our last day in Italy.
My favorite memory of Italy would have to be our day at Lake Garda, specifically touring the Scaglieri castle. But every day was a delightful surprise, and Italy is hands-down one of the most romantic places I've ever visited.
Arriverdeci, Italy!