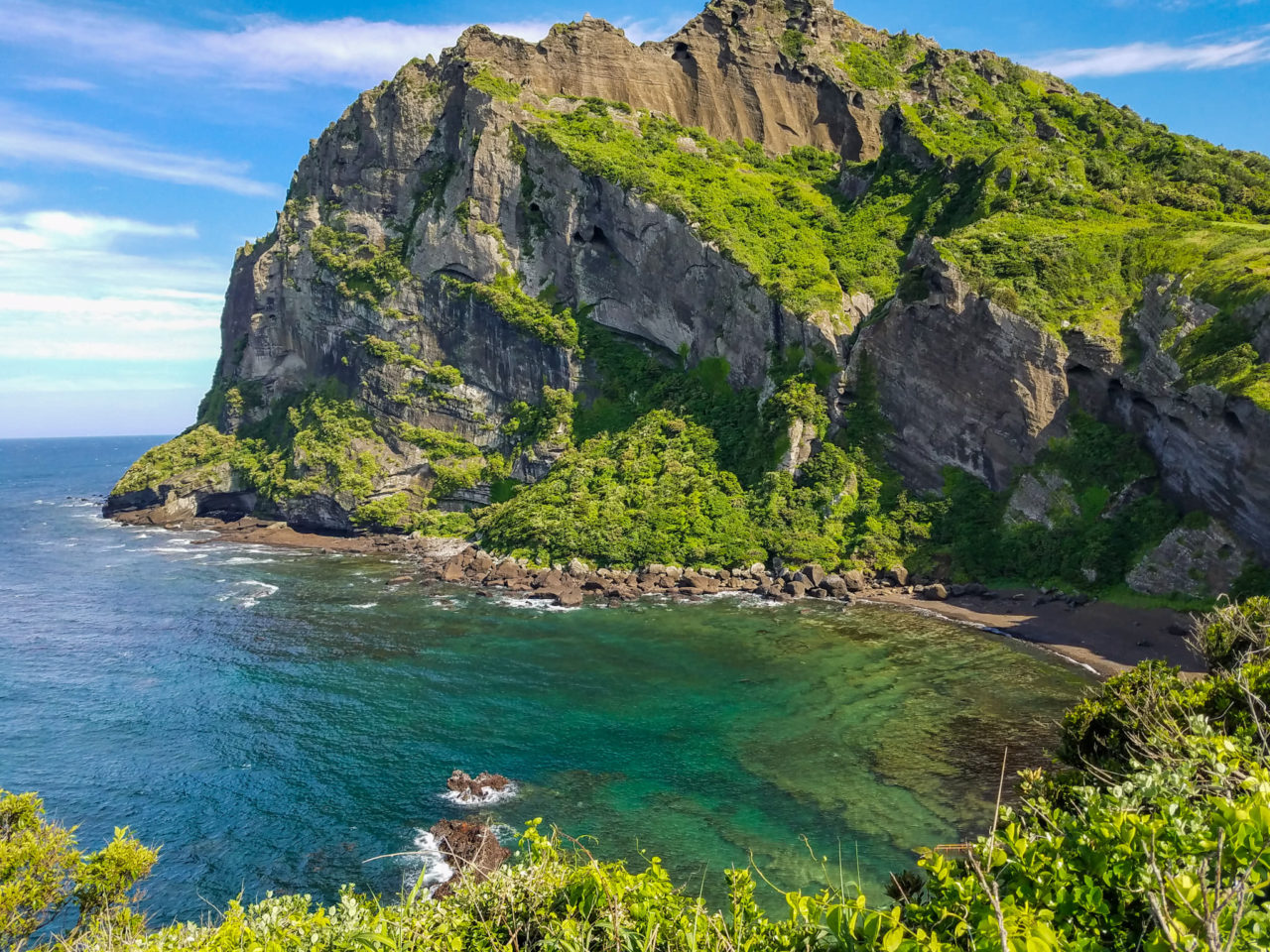 Our first order of the day was to go to this fun indoor maze, where we teamed up to complete an obstacle course and did a ten-minute one individually. What a hoot…and a workout! The girls and Drew placed in the top 10 in their age groups.
Aftwerwards, we hiked for about an hour round-trip up Seongsan Ilchulbong Peak, also known as Sunrise Peak, one of over 300 volcanic cones on the island of Jeju. It was a steep climb, but well-maintained steps led us easily all the way to the top. From there, I could see colorful rooftops clustered in sections. They reflect the youthful energy of Jeju Island and its eclectic tourist infrastructure.
As we came down from the hike, we watched women divers harvest abalone on the beach below. They wore wet suits and face masks, their nets attached to small orange inflatables, scouring the shallows as generations of women before them have. No longer in their youth, they aren't simply strong divers but I suspect also strong women.
Sierra and I are kindred spirits. Give us a beach and we could comb it all day. While the divers were off diving, we wandered off to the far end of the beach, and there was sea glass all over. Sierra said this is the most sea glass she has ever seen on a beach. We hunted for them until our jacket pockets bulged.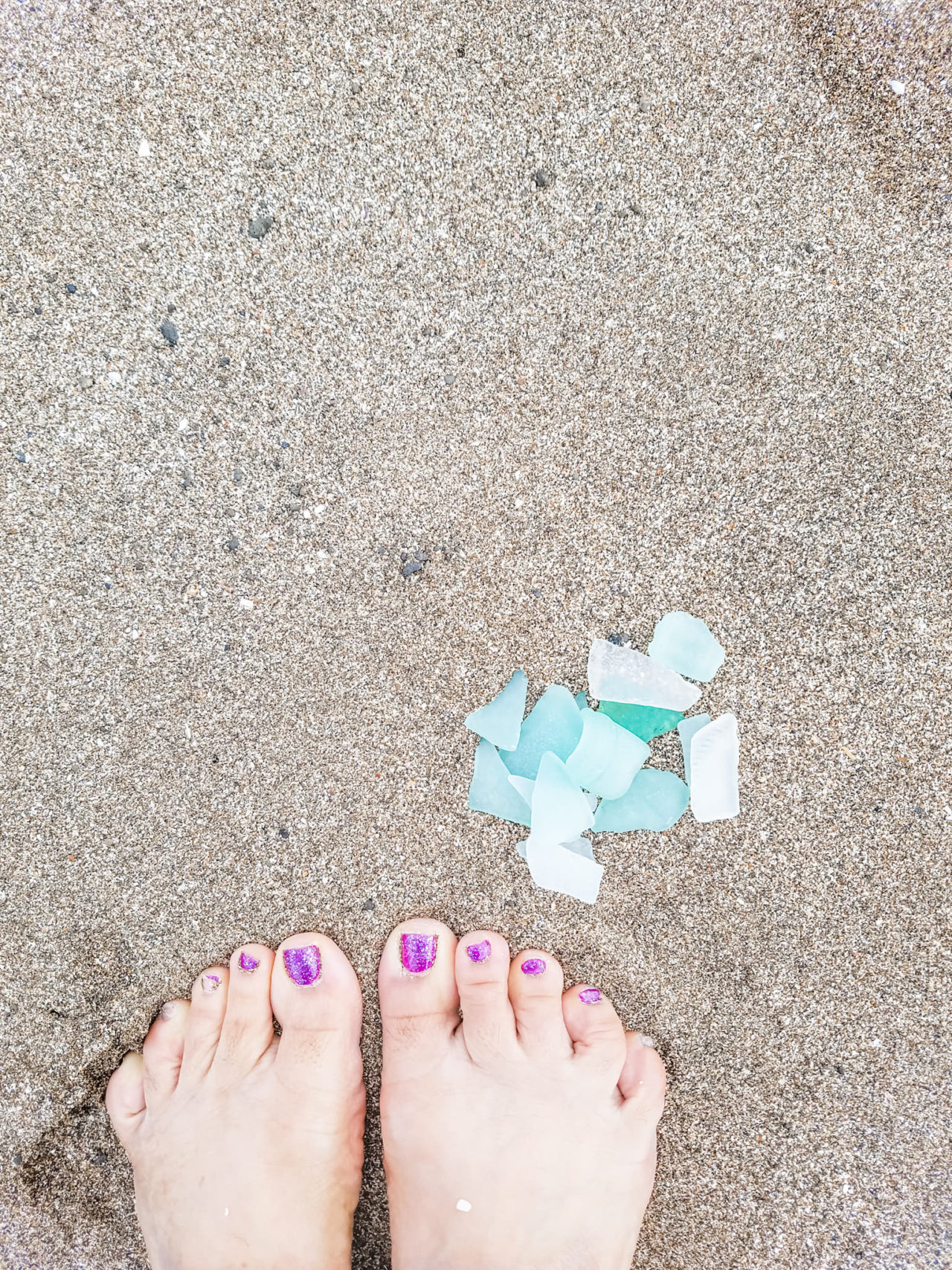 On our way back to the car, we saw a place that touted itself as a Mango Philippine Dessert restaurant. Of course we had to give it a try for a snack. The decor was fun and colorful.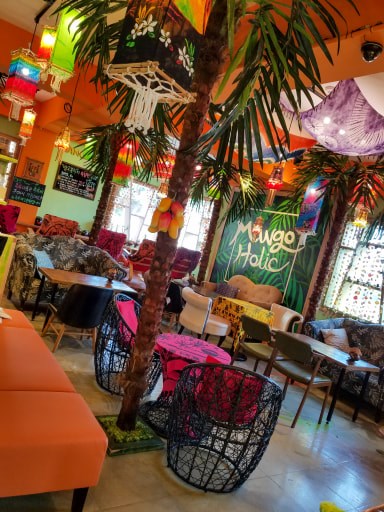 We kicked off our shoes and relaxed in the comfortable rattan furniture. And then ate this amazing combo of shakes, mangoholic mango and apple dessert, and mango honey bread. I kid you not, it was sooooo good.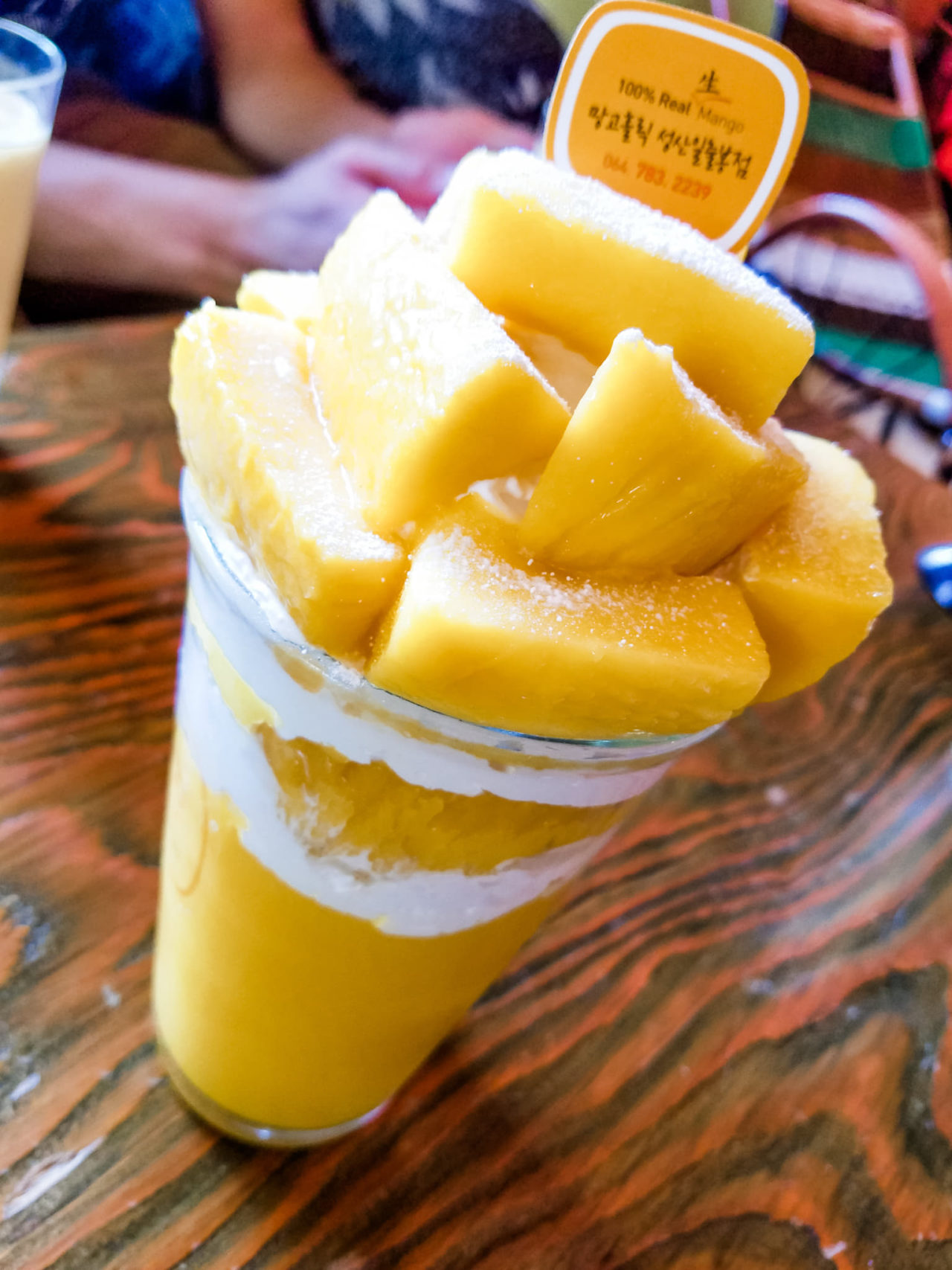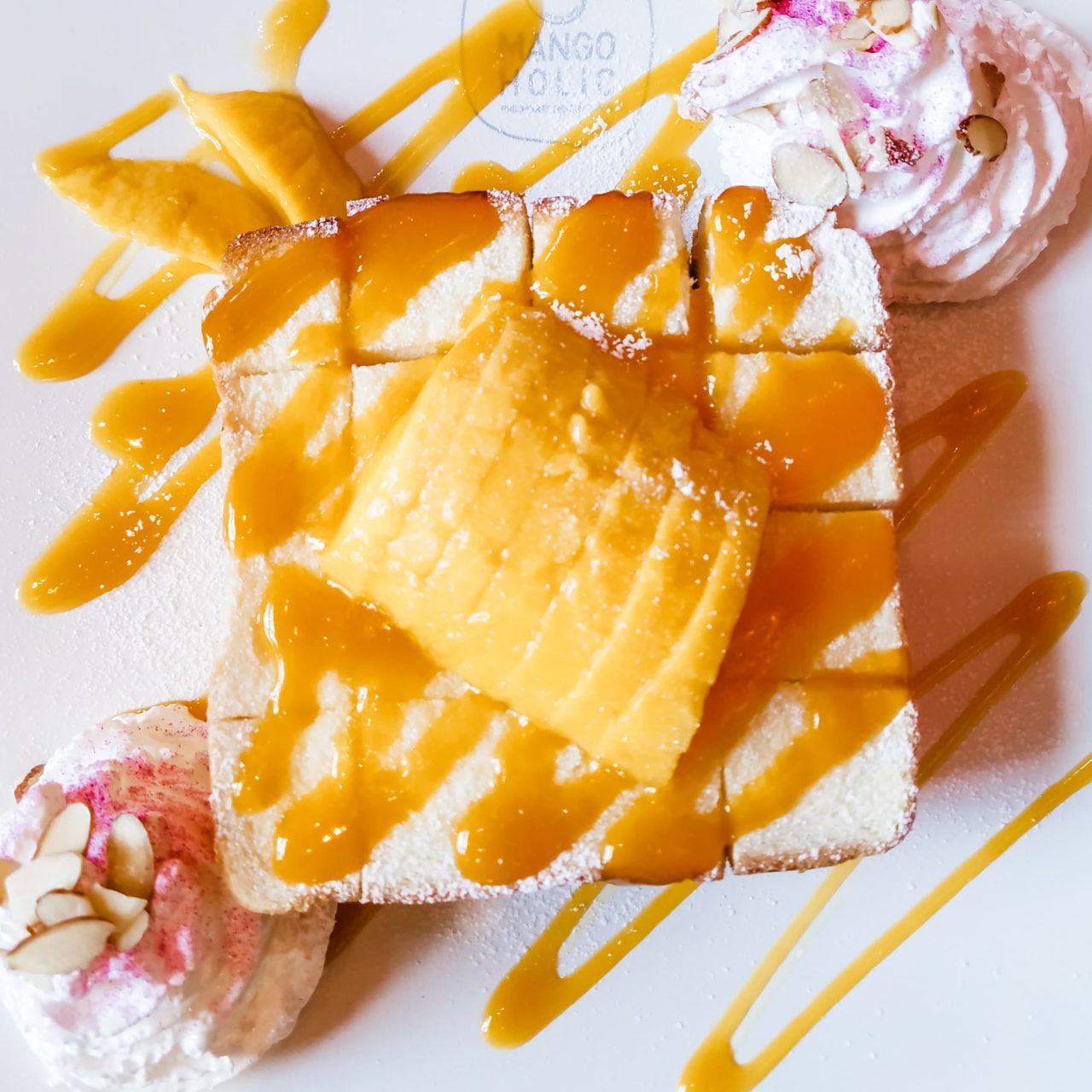 ---
Perfect timing, as we drove around the island to find a dinner place (ha ha, yes, of course we still had room for good food), we caught the sunset from a park of sculptures. I took a photo of the setting sun through an opening in a pagoda. Such a perfect architectural symbol to add to the photo.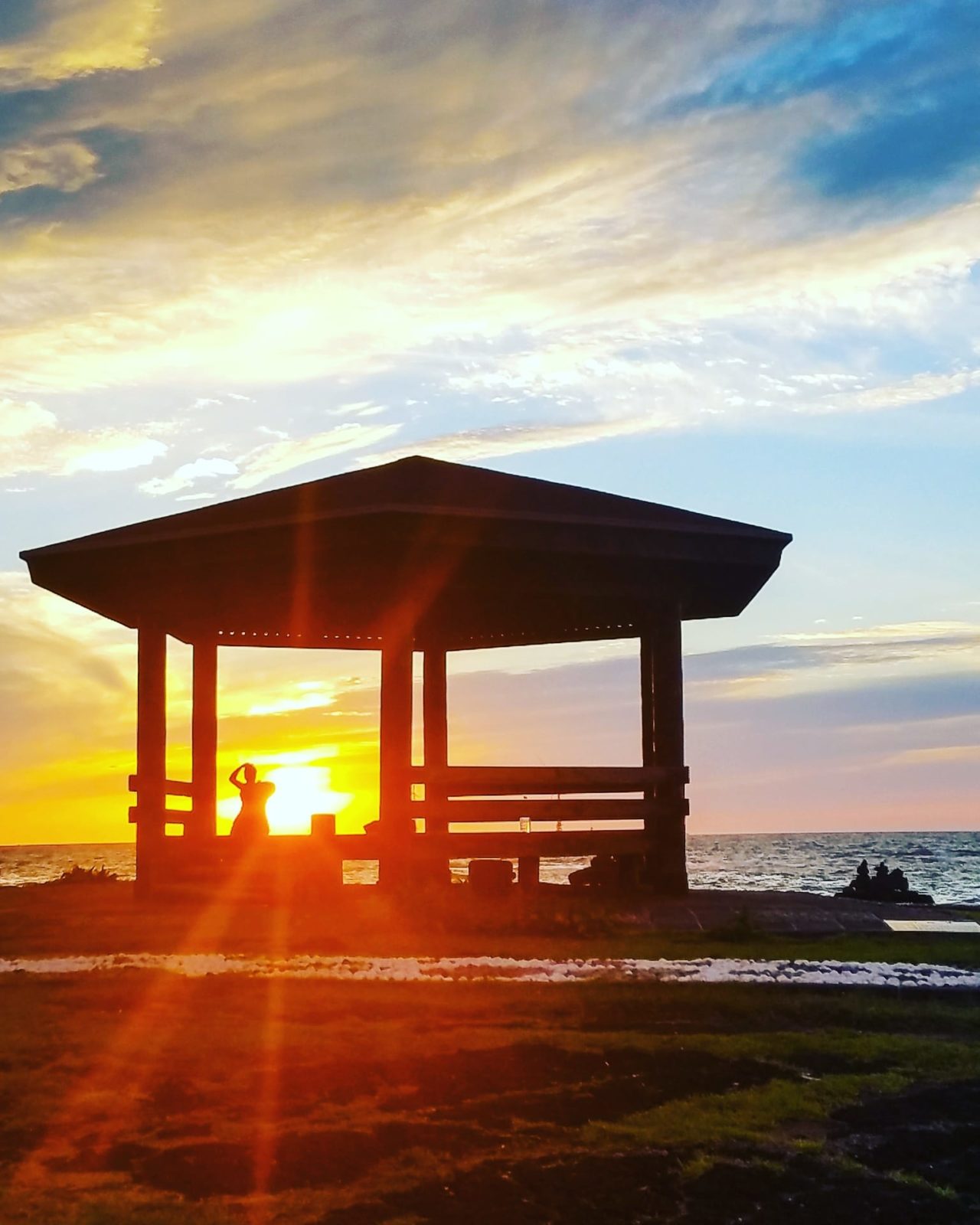 It was a beautiful end to a fun day. Yesterday had been stormy. Today, we were blessed with dry and comfortably cool weather.
---
I haven't written fiction while on vacation this past week in Korea. I have another week to go and I sometimes think of writing fiction, but there hasn't really been time. Nor the inclination. To paraphrase John Denver, Korea fills up my senses. I couldn't truly say that this vacation has been restful. We are always on the go. But it's definitely a break from the daily author grind.
I am filling my well; rejuvenating my sense of wonder. When one travels, adventure feeds the imagination. I keep thinking of possible ways to set a romance here. Korean men are more "pretty" than rugged, but they have their charm (observation as an author).
---
For dinner, we tried a down-to-earth place whose owner was so friendly and acted like an auntie to us. She helped Sierra mix kimchee sauce in her soup and helped another customer wash off kimchee stain from her white blouse. She brought me a huge helping of beansprouts even though she doesn't usually offer it as banchan or a side dish, and which I have become enamored with. I tried pig's feet. It was cold and had the consistency of firm jell-o. Not my favorite, but it satisfied my curiosity (and hunger).