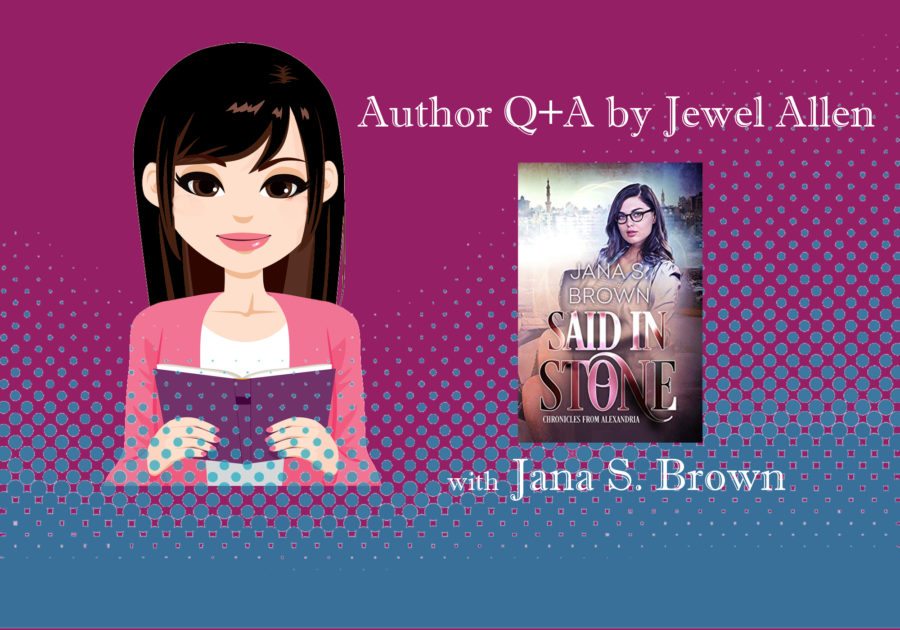 Jana S. Brown is an author, editor and presenter. A Jack-of-all-trades and Master of Enough. She writes the weird and the wonderful with smooches. She helps authors create professional books that they are proud of and readers love, to navigate the mazes of book marketing, and make author-reader love matches. When she's not at the computer she can usually be found in the kitchen, or in the backyard, or with a ball of yarn and a crochet hook.
Today she will share how authors can best utilize My Book Cave, where she works as the acceptance editor; how to optimize your author newsletter; and her editor advice for  creating believable conflict in romance.
---
Q. I am excited to have this chat with you, Jana! I have been googling you, and…I am super impressed with all you do.
A. Heh. Thank you! That google. Giving away all my secrets!
Q. At the same time, I am a bit overwhelmed…so I will start with asking you…how did you get started as a writer?
A. I really started as a lover of story from the time I was very little. I grew up in a farming family where working time was also story time. Our home was filled with books and reading and storytelling. So by the time I was about 8 I had determined that the two jobs I wanted in the whole world were to be an author and to be a mama. My first paid for bit was a recipe and accompanying story in a local cookbook in 1984 and since then I write and publish wherever I feel like I have a story to tell.
Q. A farming family…as in you rode horses and showed pigs at the fair and all that?
A. Horses, cows, chickens all lived at grandma's house which was about 7 miles away. Then the farm turned to a lot more growing and less livestock: barley, wheat, alfalfa, tridicaly, peaches, cherries, plums, grapes, tomatoes, you name it. My grandparents say they never made much money off the farm, but raised 7 great kids and 64 grandkids. I did the Fair and 4-H for over 20 years. 🙂 Love it.
Q. But now you write about people on other planets. I saw one of your books…Desert Rains. I grew up reading Isaac Asimov so science fiction is dear to my girlhood heart. Can you tell me what inspired you to write this story?
A. I always tell people Desert Rains is like Firefly, but with more kissing. I loved what Joss Whedon did with Firefly, taking that frontier spirit into space. I also love Asimov and space stories so I wanted to kind of bring those things together. Desert Rains takes place on a desert planet and is a Science Fiction / Western / Romance about the woman who runs a ranch on planet, and the rich boy technician who comes chasing another girl, but ends up working at the ranch. My brother has a ranch in Oregon, so a lot of the ranching scenes are right from his place. It was such a hoot to write. More kissing and more cows.
Q. S-moo-ching! Sorry…I couldn't resist. The first time we really connected, you mentioned to me that you teach at conferences. So I wanted to ask you a bit about that.
A. Fantastic.
Q. One of your topics was email lists. I am actually getting ready to send out an email to my list today so I could use some advice. What are your top three tips to authors about email or shall we say newsletter lists?
A. When it comes to email lists I actually work with two different kinds and try to help authors understand them. There are email lists that someone else manages and uses to help you get word out about your books – think BookBub, who is the largest player in that space. Then there is the newsletter which the author controls.
Q. Ahhh….I see.
A. Newsletters are really critical because they are a group of self-selecting readers who WANT information about you and your books. So when you're talking to them you want to give them what they want.
So my tips would be: 1) Know your audience. You can send out polls to see if they want to know about your cat as well as your books, or just about new releases. This way you can tailor what you're doing.
2) Don't overwhelm your readers with newsletters. Most authors find that once or twice a month is ample. Again, ask your readers and see how often they want to hear from you. Too many newsletters in a short time period and they'll unsubscribe.
3) Be careful about what you share as far as other author's books. If your readers came to you because you write awesome Billionaire sweet romances and you are advertising a book with erotic content because you were on a swap your readers will lose faith in you.
Q. Those are great. Give our readers context of your background. You had said you work for My Book Cave. Is that right? Can you give us the lowdown for those who aren't familiar with that service what that is about and why authors should consider participating?
A. I've been the acceptance editor for My Book Cave for the last two years, and it's a great job. Book Cave is all about connecting readers and authors and making love matches. So we have several services to do that. Like BookBub we keep a curated list of readers who have given us permission to send them emails when books in the genre they love are on sale. But we take it a step further because we also have the authors rate the content of their books and we match the content as well as genre to the readers who want it. This is critical in marketing in general because the closer you can match what you are selling to the market the more quality sales you're going to get. We also help build newsletters with book magnets, giveaways and author pages. There are other exciting things on the horizon coming too, but I can't talk about those yet. 🙂 Just trust me. It's gonna be awesome.
Q. Sounds like a great service. What do you look for in books? What rises to the top for you?
A. For the site we want books that are going to make that strong connection with the readers. So it starts with a great cover and a great blurb. I look at every book that comes into our system and make sure they have those things. Obviously handmade or slap-dash covers are going to get rejected. If a blurb is weak then we try to work with the author to create something stronger, but there are limits to how much I can do there simply because I'm curating a large number of books each day. Next we check the interior format and the writing to make sure it's been well edited and put together, and we double check the content to make sure the rating is accurate. Then it's look at pricing and scheduling and away we go. It sound pretty strict and it really can be, but when a reader downloads a book because of our site it reflects on both the author and on us and we want only the best reputation for our service and our authors. We're run by authors so we understand the struggle and we are readers so we understand that side too.
Q. And then once you give the go-signal it means it is part of your "matchmaking" catalog?
A. Yep. Most of our readers are looking for sale books. They want to try new authors, but want to try them at a bit of a discount. So we require authors put their book on sale while they're listed. But authors make the decision how long: from 1 day to 180 days. We send out the email to the readers who have selected your genre and content on the first day. Then the book stays resident on our site for the entire time you've selected so anyone can search the site and find a lovematch.
Q. I have participated in My Book Cave promos to build my newsletter in the past. But that is all. What would you say is the largest untapped resource for authors they should be checking into with regards to My Book Cave?
A. The two hottest things we do are the newsletter builders – we call them magnets, and the email blasts which we call email promotions. Our list reaches 175,000 unique readers and that number goes up by several thousand every month. Our rates for participating range from free to $25 which puts us in the middle as far as costs go for those kinds of promotions, but very reasonable when you're trying to get the word out. We stay on top of marketing trends and work hard to take some of that work off authors plates so you can sell while still focusing on writing.
Q. You also edit for authors. I have edited for clients, too, but not as much now that I am rapid releasing books monthly. How do you juggle projects? What kind of schedule has worked for you so you can edit and (hopefully) still have a life?
A. I do. I have between 3-5 clients I'm working on at any given time editing anything from flash fiction to full on novels. I'm really excited that two of my clients are Whitney Award Finalists this year! I think I get just as excited as my authors do when they do well.
As far as scheduling I keep a big calendar with get this done by dates on it. My little girl is in school in the mornings so morning is writing time because I cannot write with her 'helping'. Afternoons are play with the kidling, clean the house, garden and make food time. Then in the evenings I edit because I can do that more easily when surrounded by distractions and the husband is home to help with bedtime routine. I'm really lucky that he's very supportive and willing to take on more when I'm under deadline. Also little girl plays at friends' houses more often when I'm on deadline and I disappear into the office and only come out for more chocolate. Some days it works great. Some days…well… Some days we ditch it all and go to the park.
Q. Sounds like a great philosophy. If there is an area that you have found as an editor writers could focus on to elevate their romance novel to memorable, what would it be?
A. Oooh…really good question. The biggest place where romance novels fall short for me is when the conflict is a conflict of convenience or being dumb. Where I don't feel like it's genuine for the characters but the author went, oh crap I need a black moment here so suddenly the hero does something really jerky, or the heroine throws herself into utter danger just because even though up until this moment she's been a very reasonable kind of person. I don't want to see the author behind the curtain. So I need those set ups so when the MCs do their thing even if I don't want them to I can accept it and root for them to get through it. Howard Tayler of Writing Excuses and Schlock Mercenary uses the term surprising yet inevitable. It's surprising when it happens, but as you look all the set-up is there and it was inevitable the conflict would happen.
Q. I can relate. Sometimes, it's hard to keep conflict going for 50k words and then you panic as an author so you throw in everything short of the kitchen sink. What is a more reasonable way to add conflict to your romance?
A. Set up the grounds for the conflict early on. If you are a pantser – which is just fine – you may have to loop back and add stuff to the beginning instead of extending the end. Often I see that where an author keeps adding more conflict at the end when they could have got another 2-3k words and depth by adding to something in the beginning, and often that makes for more well-rounded MCs anyway. So if you know it's going to be a conflict over family, for example, you can sometimes get a lot of mileage out of showing us an earlier scene with family. A text message battle or phone call the hero knows nothing about, but the reader does, so when you see him on the collision path with her family issues it's all new and raw and you just know it's going to explode.
Q. Okay, we're almost out of time. Ahh. I've really enjoyed learning from you. Tell us about an upcoming project that you want readers to know about.
A. April 9th I'm releasing Said in Stone! This is a collection of six stories which all happen in the same world as my Sentinels of Essence series. Readers wanted to know more about the lives of the secondary characters so I'm delivering. In this book our heroes face zombies, a Borg-like collective, gremlins, hellhounds, ghosts, and the unseelie court. And there are smooches involved in at least two of the stories. 😊
Q. Wonderful. Thank you so much Jana! I loved getting to know you better.
---
Connect with Jana at her website and check out her books on Amazon. Get Said in Stone here. Find out more about My Book Cave here.
For tips on writing and publishing fast for profit, check out my book Rapid Release. Subscribe to my newsletter here.