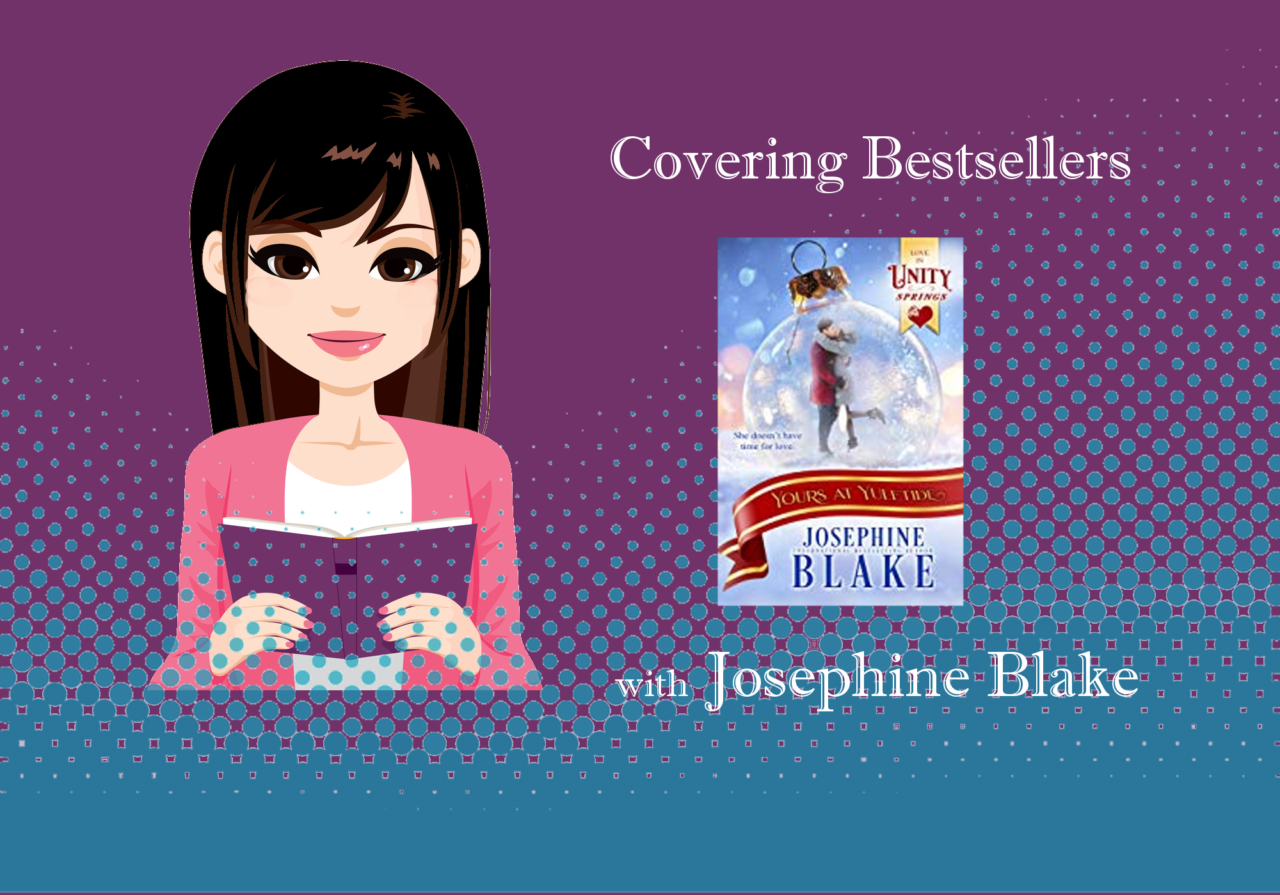 Josephine Blake is a historical and contemporary romance author who also makes beautiful covers (she makes some of mine!). Today she will chat about how ghostwriting fiction works, what helps a cover sell, and what makes for effective marketing.
---
Q. How's the baby doing?
A. She's great. Tons of personality.
Q. How many months old is she now? (If you don't mind me asking. I will eventually Q you about writing, really.)
A. (Not at all!) She'll be 6 months on the 7th! She keeps me hopping.
Q. No kidding! You had to shut down your entire cover-designing empire for her for a few months, so she must be super cute to be worth it. Which segues to the next question…I know you as my cover designer and also an international-bestselling author. The author came first, correct? And for how long now?
A. Yes! I published my first book, Dianna, in 2016. So, it's been three years now.
Q. And how did you get into writing and eventually publishing?
A. I actually started out freelancing. Articles, blog posts, etc. I worked as a ghost writer for several months on a few western historical romance projects and BOOM, I fell in love with the genre. So I asked the gal I was working for how to get going on publishing my own work. It all just kind of… snowballed. I must confess, I didn't have a clue what I was doing at first. It took a good hard year for me to figure out the marketing aspect, but Dianna did jump to the top of the Amazon charts that second year, so it definitely paid off!
Q. Whoa, Nelly. That is cool. How does ghostwriting work?
A. So, ghostwriting is super great for dipping your toes in the water. I actually advise friends who think they want to write to start out there. Generally, I was working for authors that had already built up big names for themselves. I wrote the content for their new books, they purchased the stories for a flat rate per word, put their own spin on the story, and released it to their readers. Pretty simple, pretty fun for someone who had been writing non-fiction articles about restaurants and hotels.
Q. What kind of money versus time ratio can you make ghostwriting?
A. I mean, if I was writing 5k words a day for $2 per 100 words, I would make $100 bucks a day, which wasn't bad considering I was just starting out. The higher I pushed my word count, the more money I made. I think 5k was a good average though. I took a ton of typing classes in high school, so my WPM was pretty high. I averaged 1000-1500 words an hour. So about $20 bucks an hour typically.
Q. Do you ever think you could have written a certain story yourself and feel a bit of regret?
A. Nah. I would just watch my stories from afar, keep an eye on the reviews and try to learn from my mistakes. It gave me the chance to learn the market and figure out what kind of things readers loved and what they didn't care for. I haven't looked at those stories for three years now. Maybe I should see how they're doing!
Q. That is a great philosophy. Because you can't live in constant regret. I'm sure you just have to move on. Okay, so Dianna took off. What kind of novels did you and do you write up to this point?
A. Honestly, even after Dianna did well, I was still learning. I had that series planned, but didn't know where to head after that. Once I'd finished book 5 in the Brittler Sisters, I jumped genres. I had this Jack-the-Ripper Victorian gothic stuck in my head. So I wrote it, cause I wanted to! It did really well, (better than I thought it would) and became another bestseller in gothic romance. I wrote another book in the series, and planned two more before cover design started taking over my life. It was addicting. I started learning new techniques every day, and eventually, it became a sort of obsession that was making me a really steady income. So I kept at it!
I wrote in the Silverpines series, and that was where I started learning a bit more about writing to market. I'm quick-releasing a new Christmas Contemporary Romance series this week actually. I'm pretty nervous about it!
Q. I am sure it will do gangbusters. Speaking of which. Can you tell me some stats / titles that gave you the nice tagline of international bestselling author?
A. That was Dianna and My Victorian gothic, A Brush with Death. Dianna only made it to the top of the western historical lists here, but ABWD hit the top of the gothic section here, in Australia, and somewhere else that I can't remember. A friend pointed it out, otherwise I would have missed it!
Q. Can you give me a ballpark of "steady income" and what techniques have worked for you?
A. Honestly, I'm thrilled when my combined royalties and designs bring in 4K a month. That might seem like small potatoes to some, but we're a dual income household and I'm not out to make a big name for myself. My family is my priority, and if I can make some decent cash at a part-time gig where I work from home, that's plenty for me.
For marketing, I've found that a few carefully placed advertisements and newsletter swaps can get you a good sticky rank on amazon. I love doing giveaways for my readers, and interacting with them on a personal level, apart from being down right fun, gives my sales a good boost as well.
Q. That is fab! I will ask you about covers in a minute. Glad you talked about your readers. I have seen you do games on your page / group, and they are legendary. Give me an example of something you do that has brought up the engagement among your fans.
A. Well. Giveaways are always big engagements. So are Live videos! But I find that my readers like to help me build worlds too. They like to help me name characters and towns, etc. Then they enjoy reading about them later on.
Q. Nice. How did you get started cover designing and what per cent of it makes up your workload nowadays?
A. I won't be the first newbie author to say I had NO budget when I was getting started. And let me tell you, Dianna's first cover makes me want to cry it's so bad, but that's how it all started. I didn't have any idea about Premade design groups, no clue how to avoid paying a few hundred dollars on a decent cover so… I made my own, and I botched it horribly.
But through the series, I got better and better and discovered a passion for it. I've always been a sketcher and a painter and graphic design just… came to me. I started paying attention to the covers on the market and thinking, "I HAVE to learn how to create that effect." And it really just… was a natural process. I didn't go to school for it. I used skills I picked up from one photoshop class in MIDDLE school (wow that was a gazillion years ago.) But now cover design makes up about 50% of my workload. When I feel overworked on one thing, I switch to the other. It keeps me from getting bored and makes it feel less like a job and more like something I do for fun… which… is kinda what it is.
Q. Wow, that is amazing. Because (and I'm not trying to butter you up since you are my favorite cover designer) you are very talented. Is your favorite design software Photoshop or something else?
A. Lol. Thanks, Jewel. Photoshop. I'm a HUGE photoshop nerd. I adore it.
Q. What is your top advice to an author in working with a cover artist?
A. Hmm. Top advice. Well… for choosing a new cover artist… make sure they're producing work similar to what you would see on top-rated author's books. If your cover isn't marketable, your book will lose a ton of marketability too. I don't care what people say. Readers judge books BY THEIR COVERS. Then, after that, let your designer fly. You'll get the biggest bang for your buck if the designer is just as passionate and excited about the project as you are!!
Q. Josephine! I had such a blast and I could spend all day asking you questions. Honestly though it is easier than trying to answer some of your designer questions to me when we're trying to work on one of my covers. Thank you so much and good luck with your newest series!
A. Thanks so much, Jewel! I'm honored and it was a pleasure!
---
Check out Josephine Blake's Amazon author page here.
Subscribe to my newsletter for Q&A alerts, writing tips and publishing news. Check out my books.