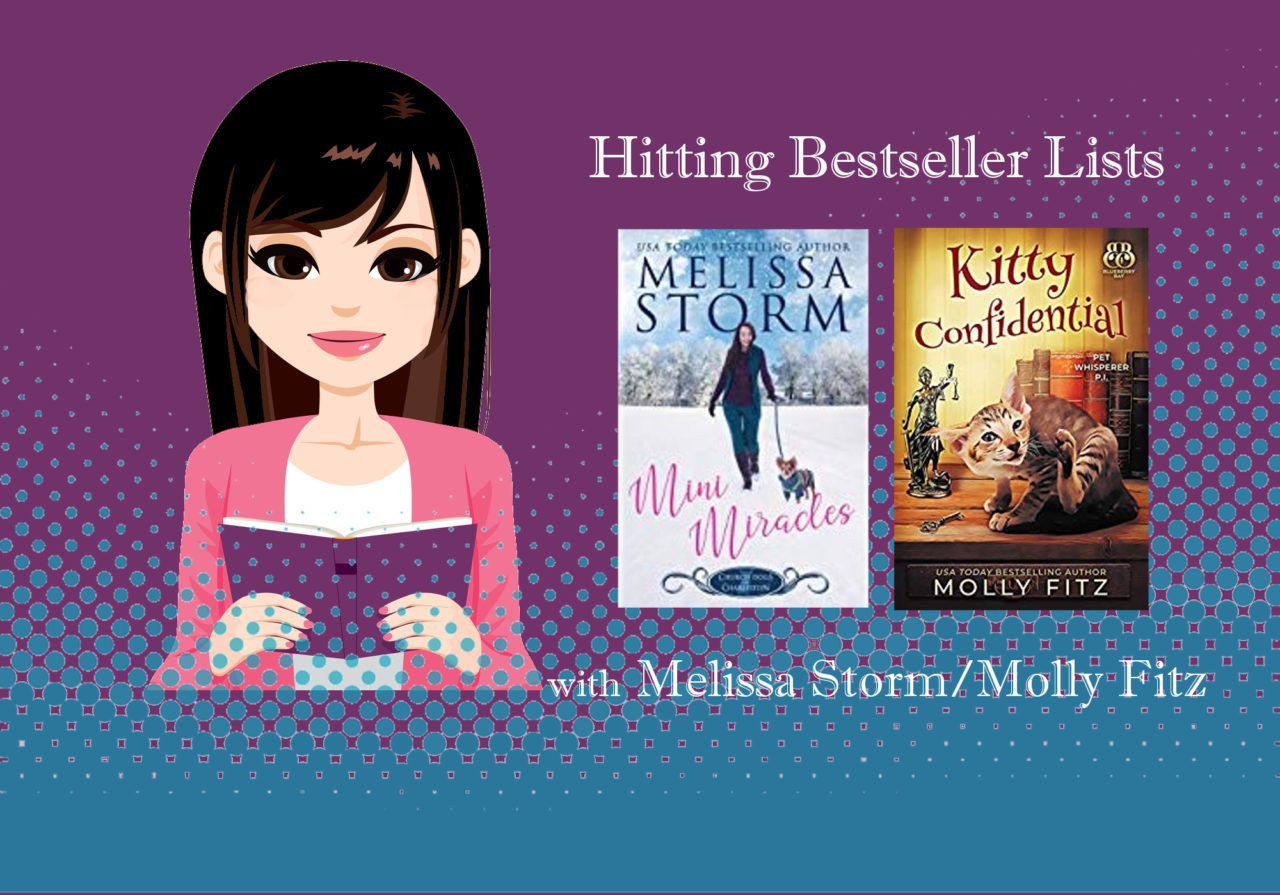 Aside from hitting the USA Today Bestselling List 5 times, sweet romance author Melissa Storm runs several successful publishing-related businesses. Her debut cozy mystery series under her pen name Molly Fitz also recently hit the list. Today, she will talk about how she gets all of it done, her advice to authors, and how a dog helped her land a collaboration with #1 NY Times Bestselling Author Fern Michaels.
---
Q. Your family makes me think of The Incredibles.
A. LOL. Why's that?
Q. Elastigirl married Mr. Incredible. Melissa marries writer Falcon Storm. So much authorly goodness all around.
A. Hahaha, thank you! Our 5 year old daughter is (very slowly) writing a book, too.
Q. No surprise there. Can you tell me a bit about your authorly romance?
A. We met back in 2012 when I was going through a heartbreaking divorce and very bitter about love. Mr. Storm had it even worse though, because he was unemployed and contemplating suicide.
Q. Whoa, Nelly. That is pretty intense stuff.
A. We were both new to the area and I found a pic of him on this dating app posing with this gorgeous husky. And his profile said he was a writer.
Q. Yes, it usually comes down to the dog.
A. So I reached out as friends. We first met to discuss writing at a local Panera, and we just clicked. Like we had been friends forever. It turned to romance about a month later. Less than three months after that, we secretly eloped. So total whirlwind romance and both very happy to have found the other. Other than our shared love of dogs and books, we are very different, but we complement each other well.
Q. That is amazing, Melissa. I am happy for you guys. Do you read each other's manuscripts?
A. Yes, we do. He's my beta reader/ content editor / idea bouncer-offer. He loves helping with my more light-hearted books, but for the ones that are really sad, he has to skip out on them. He also helps me with details about Alaska in my books, which is where he grew up. And he proof-checks for the manliness of my male characters too.
Q. You guys are so creative. Do you ever sleep? It seems that idea bouncing would take up a lot of your time.
A. He's still a newer writer, so he produces pages more slowly but I do read them and edit them and listen to his ideas. I just want him to get a book out there, because he is amazing and the world needs to find out! We both have insomnia. I go to bed early but wake up a lot throughout the night and read. He stays up late because he has a hard time falling asleep. We've both dreamed book ideas before too!
Q. Hey, if you will have insomnia, might as well get a book out of it. So I've been checking out your sites. Beautiful work by the way, and your bio says, "Melissa and Falcon also run a number of book-related businesses together, including LitRing, Sweet Promise Press, Novel Publicity, Your Author Engine, and The Author Site." Can you tell me how that all began?
A. I founded my first business, Novel Publicity, in early 2011, and we fell in love in late 2012. When we met, he didn't have a job. Since then, we've been working together and expanding businesses while both pursuing our dreams. Working with your spouse can be a challenge for sure, but the benefits are huge too! This summer, the two of us are going to Australia and New Zealand with our daughter for a whole month. Perks of being a work-from-home family.
Q. Nice! That sounds amazing. Have you been there before?
A. Nope, this is the first for all of us! I'll be teaching and keynoting at the Romance Writer conventions for each country and couldn't leave my family behind for such a long time!
Q. How cool is that? Since you mentioned your travel / work schedule, how does your typical week go? Trying to figure out how you "do it all."
A. Work, a couple hours of family time, sleep… Repeat 🙂
Q. How did you get started writing and publishing?
A. About a year after I finished graduate school, I was approached by the local paper to write a book review column. That gave me the encouragement and discipline I needed to start working on my first novel. Once I started, I was addicted!
Q. What year was that?
A. 2009.
Q. Wow, so ten years, and you have been very prolific. How many books do you have out now as Melissa Storm?
A. No idea, LOL. I started under a different pen name in a different genre. Unpublished all those books when I wanted a change. This past week, I unpublished 14 novellas and republished them in only collections. It gets hard to track!
Q. Would you say 50 or more? (I feel like I am looking at a bookshelf guessing game).
A. More than 30 for sure. My husband is rewriting and expanding my original YA Paranormal series, but I also wrote picture books and lower grade mysteries under that pen too, and those books haven't been republished.
Q. Tell me more about what you describe as "highly personal stories" you write.
A. All my books are super sweet. Usually the first kiss doesn't occur until almost the very end of the book! Some of my books explore themes of faith. Others focus more on friendship, family, finding a home.
Q. So did your real-life childhood and growing up inspire your writing? What parts of it did you draw from?
A. I was a lonely kid, so my books are very introspective. I was also raised in the church and in a small-town, both of which serve as the setting for almost all my books.
Q. I love small towns. Throw in romance and it's so fun. How do you write a compelling romance where the first kiss doesn't occur until almost the very end of the book?
A. It's all about the push and pull, that tension. The characters feel that connection but have their reasons for not pursuing it.
Q. How do you prepare to write a book? Do you outline, or…?
A. Yes, I'm a big-time plotter. I use Scrivener and plan out the first several chapters and the last few. Then I write some and fill out more of the outline as I get a sense for the characters and the flow.
Q. On the average, how long are your Melissa Storm books? And how long does it take you to draft one?
A. Most are between 40 to 50k, although my traditionally published titles are 70-75k. With a good outline and a clear calendar, I can write a book in 4 days. At an ideal pace, I spend 2-3 weeks instead.
Q. You read my mind! My question was going to be, "Have you always been indie or did you ever do trad?" Are you hybrid or indie now?
A. Hybrid.
Q. As you've worked with authors on so many different levels, can you tell me what top three things you see over and over that authors would do well to incorporate or do better in their career?
A. Oh, wow. Give me a sec on that one. Hmmm.
#1 – Committing to too much too early. Either planning too many books in a series that never takes off, chasing trends, focusing solely on multi-author collabs rather than finding their own voice first.
#2 – Not learning to delegate. You can be amazing at lots of things, but you can't do them all without sacrificing something–maybe speed, maybe quality, maybe sanity. Finding great people you can trust to help you run your business is vital!
Q. Well, sanity for sure gets dispensed with often…
A. #3 – Not listening to your readers. When authors tell me they don't read their reviews, it makes me sad. There's a ton of good insight there about what readers are connecting with and what they're not. I'm constantly learning and constantly asking my readers for feedback, whether it's choosing what I write next, naming a new character, or something else. They are a HUGE part of my success!
Q. Yes and yes. I can see the benefit of reviews, but I can also see how hard it is to read some of them. Thank you so much for those fantastic tips. So….I wanna jump in and talk for a bit about your cozy mystery pen name Molly Fitz.
A. My alter-ego. Sure!
Q. Tell me how that came about.
A. I saw some adorable animal premades on Lou Harper's site and was so tempted. Two hours later, I had bought five of them, established a new pen name, and even built a website!
Q. Ha ha ha! You are adorably crazy! How did you decide that cozy mysteries were for you?
A. I saw the covers and loved them, LOL. I already enjoyed the genre as a reader, and I've always written animal stories, so it just seemed… fated.
Q. Sure, I can see that. This series you have now, about animals who can communicate, correct? What is it called?
A. Pet Whisperer P.I. The main character has a near-death experience and wakes up being able to talk to animals… or at least to one in particular, a very cranky, very spoiled tabby cat.
Q. Love it! How come you have animals in your stories? Even your romances. I mean aside from the obvious that you love them.
A. Like I said, I was a very lonely kid, so my cats and my books were my best friends until like middle school. Now as an adult, I have 6 dogs and a 1 long-suffering cat. They're just such a huge part of my life and always have been!
Q. Ha ha, tell me about it. I am married to a veterinarian and animals are not optional. 🙂 Let's chat about making a run for the USA Today Bestselling List. You did it as Melissa Storm and now as Molly Fitz. In different genres. What did it take for both?
A. Sweat, blood, tears… My first-born! 😆 Hehe, just kidding. A great book in a popular genre and major ads juju. I've run 6 times and listed 5.
Q. Wowza!!
A. The first time I just barely missed making it, because I had unwittingly tried during Dr. Seuss's birthday week, which is crazy competitive! 😆 It's not just about having the money to spend but knowing what you're doing too.
Q. Major ads meaning, can we talk numbers here?
A. Let me grab the numbers from one of my recent Molly Fitz listings.
Q. Sure.
A. Here we go. This is my lowest spend overall for hitting a list…
Amazon – 4,454. Apple – 75. Nook – 291. Kobo – 22. COPIES SOLD – 4,842
Facebook – $1,576. BookBub – $1,466. Amazon – $59. AD SPEND – $3,101
I also booked eReader News Today, NewInBooks, and BookSends for launch week. One author friend shared in her newsletter, and I sent twice to my Molly Fitz newsletter and once to my Melissa Storm newsletter. I slipped it into the LitRing newsletter as well.
The first time I did it as Melissa Storm I spent $20,000, which was absolutely insane. I've gotten much better at it now and also my Cozy Series has proven much more popular than any of my romances ever did.
Q. Yes, that is insane! Do you do ad services for other authors, too?
A. Yes, I do! I teach classes and also run Facebook and BookBub ads for authors.
Q. Through Your Author Engine and Novel Publicity, correct?
A. Yup! I have a course covering my first list hit and everything I spent and did. I'm planning to do an updated list run course later this year too!
Q. For an author who is prolific but ad-shy like me, am I better off focusing on getting books out there and then advertising, or taking a month or two off to figure out ads on my backlist?
A. Man, some of these questions are tough, Jewel! 😛I really think ads are vital. It's worth taking the time to learn to do them and do them well, especially if your author income isn't where you want it to be yet.
Q. Yes, I hear you! You have a unique perspective in that you have written in romance, which is supposedly a very good field to be in as an author. But you are observing that cozy mysteries are an even better / easier market?
A. I wouldn't necessarily say that one is better than the other, just that Cozy Mysteries fit me very well and I've really found a home I love there! If your heart's not in it, even the best/easiest market won't pan out for you!
Q. Ah, okay. I'm gonna be nosy here, and feel free to decline, what kind of income are you able to pull nowadays in romance and cozy mysteries? Best month, average month, whichever. Net. Or before expenses if you'd rather.
A. Right now I'm between $400 and $500 per day for my indies, trying to get over that $500 hump. A huge majority comes from the Cozies! My current ad spend is about $50 per day on Facebook. I plan to increase that next month to get my romances earning closer to what my mysteries do.
Q. What do you think about using a pen name for your cozies?
A. I'm definitely glad I used a pen name for my Cozy Mysteries. It's a very open secret that I am both, but by using a different name, my also boughts stay clean and my readers know for sure what kind of book they're getting from me!
Q. Last question…how did that collab, Home Sweet Home, with #1 NY Times Bestselling Author Fern Michaels come about?
A. I am so excited for the anthology with Fern Michaels and Donna Kauffman! Last year I went to my first RWA conference. I'm very introverted, but great at socializing once I'm thrown into the thick of it. I was, however, desperately missing my six dogs.
During the industry event session, I found a nice lady with a cute dog in a chest carrier and hung out with her for quite a while to get my dog fix, she was the marketing director for Kensington. She talked me up a ton and put me in touch with one of the senior-most editors. My editor read two of my indie books and loved them, so we came up with a new idea together. When she pitched it to the board, they loved the series and signed me for a three-book deal. They also decided I'd be perfect for the Mother's Day project with Fern Michaels, and I honestly couldn't sign that contract fast enough!
Q. Love it!!! I am so glad I asked. Such a cute story, and there's even a dog in it. Thank you for the fun chat!
---
Check out Melissa Storm's website. Connect with Molly Fitz here and her cozy mystery mastermind Facebook group.
Subscribe to my author newsletter and get alerts on my books and Author Q&As. To learn how to write and publish fast for profit, check out my how-to book, Rapid Release.