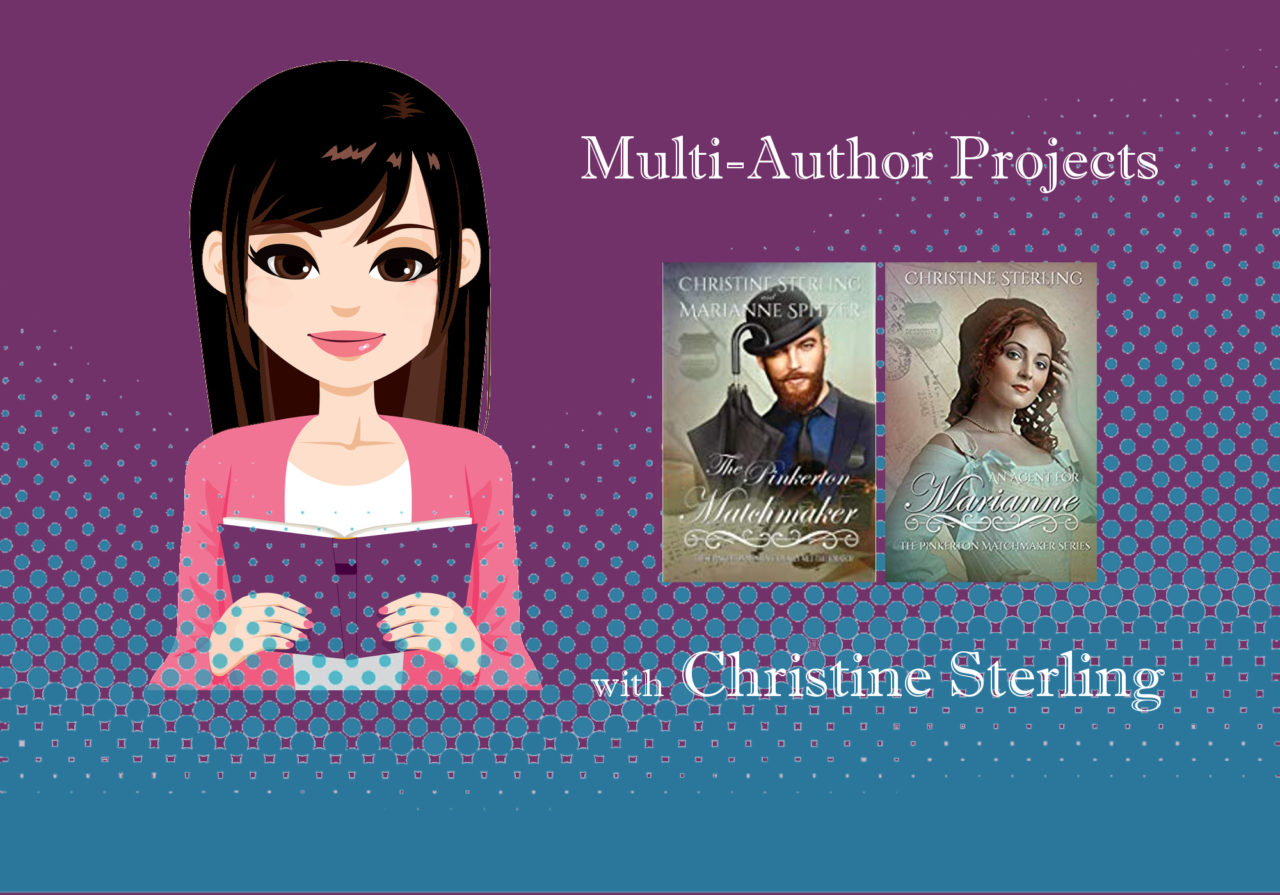 Christine Sterling is the author of over 30 romances and the creator of the wildly popular Pinkerton Matchmaker Series and the Proxy Bride Series. She is also an author in multi-author projects. Today she will talk about how she organizes successful collaborations, what kind of income they can generate, and how she manages her busy schedule between her many roles.
---
Q. Looking at your Amazon page, am I right in dubbing you the "Queen of Collaborations?"
A. HA! I've never heard anyone refer to me that way, but if the crown fits…! I love working on collaboration projects. There is something incredible about the energy when two or more authors get together. We root each other on and cheer for each other. Plus when you have a team promoting each other's books, then we can reach more readers.
Q. I know you do much more than collaborations. Can you give me a rundown of all the hats you wear? I believe somewhere on that list is coaching, too….?
A. I do wear many hats. First and foremost I'm a wife and a mother, so those have to take priority over everything else. In addition to being an author, I do coach authors that want to publish their first fiction book. I have a process to go from zero to (indie) publication within 90 days. I've had several clients that get it done in 30 and one that it is taking a bit longer because she is doing a screen play.
I share everything I know and provide accountability. For 2020, I'm moving in the non-fiction world and helping women entrepreneurs leverage their knowledge to publish a book that will build their business.
In addition to publishing and coaching, I also write blurbs and help with story structure when authors get stuck. I'm only a direct message away!
Q. Wow, Christine, what is the secret to your energy? For instance, when I messaged you about this Q&A, you pretty much messaged me right back with enthusiasm. And yet you have the same 24 hours as we all do, yes? *tongue in cheek*
A. Time continuum? LOL
Q. That's it!
A. I actually map my day out and chunk it into 90 min blocks. So I just look to see what is the priority for that block of time.
Q. Do you go 8 to 5 or some other workday time frame?
A. My core hours are 12:01 AM to 11:58 PM.
Q. Ha ha ha, you about have to.
A. Just kidding! I normally do my writing from 6AM to 9AM, then I have a client I support for six hours a day, and then I write again from 4PM to about 8PM. I shut down by 730/8PM because I do need to spend time with the hubs. I normally work 7 days a week, but that is going to 6 in 2020. I'm blocking out Saturdays and part of Sunday for nothing! I want that time!
I fit my coaching clients during that six hour window, or later at night depending on what time zone they are in.
I'm very focused. I have to be to be on my author path!
Q. Thanks for your transparency. In other words, you are a super hard worker. I assume that writing came before coaching? How did you get started writing and when did you first publish?
A. I have always been an overachiever. I do believe in full transparency, coupled with a sense of humor!
I actually became a writer when I was 7 years old (back in the 1970s). My grandparents gave me a Sears and Roebuck plastic typewriter for Christmas. I started writing stories featuring my stuffed animals.
I then decided to become a journalist — so I would interview everyone in the neighborhood about everyday stuff and then sell the newspaper back to them for a quarter!
I wanted to be a romance author since I was thirteen. My grandmother brought home a free book she had received from the bookstore to promote a new series — Second Chance at Love. I read it from cover to cover and actually wrote to the author (Karen Keast), to find out where I could get more of her books.
A package arrived a few weeks later, with a personal letter from her and several other books she had written. Her name was Sandra Canfield, and we became pen pals for over twenty years, until her death. She was such an inspiration to me!
I was determined to become a romance writer, but at that time the only route was traditionally published books, and after many rejections, I went into technical writing and published over 100 user guides and magazine articles from 1990 to 2015. From tech writing I went into public affairs and writing speeches for world leaders. I eventually I moved over to IT and became a software programmer.
I left my full time job in 2017 and published my first book three months after that. So I write all the time — as an author and a consultant!
Q. Wow, what an amazing journey! How many series are you collaborating on right now? And what are they called?
A. My first collaboration project was Silverpines, which was created by the incredible George McVey. Then I created the Pinkerton Matchmaker series & the Proxy Bride Series. Then came The Widows of Wildcat Ridge.
I was invited to collaborate on The Pioneer Brides of Rattlesnake Ridge with Sweet Promise Press in early 2019.
I created a seasonal series around the small town of Belle, Wyoming. These are short heartfelt, feel-good stories that can be read pretty quickly. Our next round of Belles books releases in February 2020.
The Ornamental Matchmakers was created by Danni Roan and I've published one book in that, with two more to be written.
I was blessed enough to be asked to be a part of Cowboys & Angels, a series created by the fabulous Jo Noelle. That rolled into Jo's second series — The Matchmaker's Ball.
Spinster Mail Order Brides released this year, and I have two books for this holiday season. I'm also doing a Widows and Babies Series, a Nursing Series and an Advice Column series with those same authors. They are such great ladies!
I did my first contemporary collaboration this year with Jo Grafford, et. al. and I have two more with her next year.
For 2020, I am organizing a brand new 36-book collab project called North & South, which is about strong women finding true love on the backdrop of war. The authors in this series are amazing!
And I know I'm forgetting something, but looking back that is quite the list!
And some point I would like to write my own books again! But this way is so much fun.
Q. I didn't think you could bowl me over more. Whew!! Christine, I am going to be nosy and ask…what kind of ranking and income can one get from collaborating?
A. Not nosy at all! I believe in full transparency because there are writers out there who really wonder — can I publish my first book and make a profit? YES! It is slow going at first, but it builds up.
In my multi-author projects (MAPs) I've received an orange ribbon 90% of the time. Several of my books stayed in the #1 spot for weeks. Last year I made over $45K on just my MAPs… so there is some good money to be made. And as I learn more about the industry and what readers want, I tweak, write and tweak again.
I'm projecting for six figures in 2020 as I'll spend more time learning to market my backlist. This year was all about writing!
Q. Thank you!! How fast do you draft a book and how many words on average are each? I guess I am wondering how often you are adding a book in all the series you are involved in, too.
A. I tried to be a pantser and it didn't work out really well, so I have to plan; which means writing from a series bible — everything related to that series and outlining every single book. I normally write about 2,000 words a day, and about 10,000 on the weekends, so I can turn a book around in a week if I press really hard. I add books to the series about once every three months, so it isn't too bad. Some series are just a single title and that's it.
Q. Smart! That makes total sense. As a collab organizer, what has been your main takeaway the past couple of years for a successful group? And what is your top tip for an author wanting to join one?
A. My biggest takeaway is life happens. So when we plan these books out months in advance, sometimes things have to shift closer to publication date. And that is totally OK. So now I have a contingency plan — i.e., who can step in and get a book done if life happens.
The other thing I learned is that less is more. Sometimes more authors isn't the best because you can lose control over your world building.
Top tips: Find a series you love to read and look for new series that are starting which are similar to that. I have a Multi-Author Project collaboration group to connect authors and coordinators. And don't be afraid to reach out. I've done that and was able to join a few new series.
Q. Awesome. I recently read your projections for what will trend in 2020. You said: "Top of the list. Non-Fic: Personal development books — specifically focused on going off grid or releasing shame. #fascinating. Fiction: Space Opera (this is a standard); Cozy Mystery; Historical Fiction — non-Romance; Women's Fiction."
How did you figure this out?
A.Ooooo… great question! I actually started googling and reading a ton of articles from the publishing houses. Publishing Trend News has articles with editors from a bunch of different publishing houses.
Q. Okay! And you also followed up with a comment that you can speak to being off-grid. I will only poke at it here since we are winding down in our Q&A, but is this comment from personal experience?
A. I would LOVE love love to be off grid. Although I do need running water and an indoor toilet (so semi-off grid maybe?). We are so tied to technology and the fast pace of life, I would love to move somewhere simpler, with fewer people and less technology. I think it would be so much less stressful, and I wouldn't get sucked down the social media rabbit hole.
I'm still trying to figure this plan out, but it is on my future board!
Q. Speaking of off-grid…. what do you do for fun?
A. I love to visit relatives and new places. I wish I had more time to cross-stitch (2020 goals) and I play a lot of mahjong to decompress! And I love to cook… so that is fun for me.
Q. That is fun! What is your top tip for an author starting out?
A. Best tips for an author starting out… read every day and write every single day. Even if it is a just one-hundred words. You are building a lifetime writing habit. And surround yourself by positive, like-minded people who want to see you succeed! Xo
Q. Last question. I am dying of curiosity here. Which world leaders have you written for? (if you are at liberty to say)
A. HAHA! I'm actually not able to disclose because of Non-Disclosure Agreements… but there were several military leaders, two attorney generals and multiple technology executives.
Q. Thank you Christine!! This has been so fun and inspiring.
A. You are the best. Thank you so much for thinking of me! And let me know how I can support you! I love the author community!
---
Check out Christine Sterling's Amazon page. Click here to check out her Multiple-Author Project Collaboration Facebook group.
Subscribe to my newsletter for Q&A alerts, writing tips and publishing news. Check out my books.