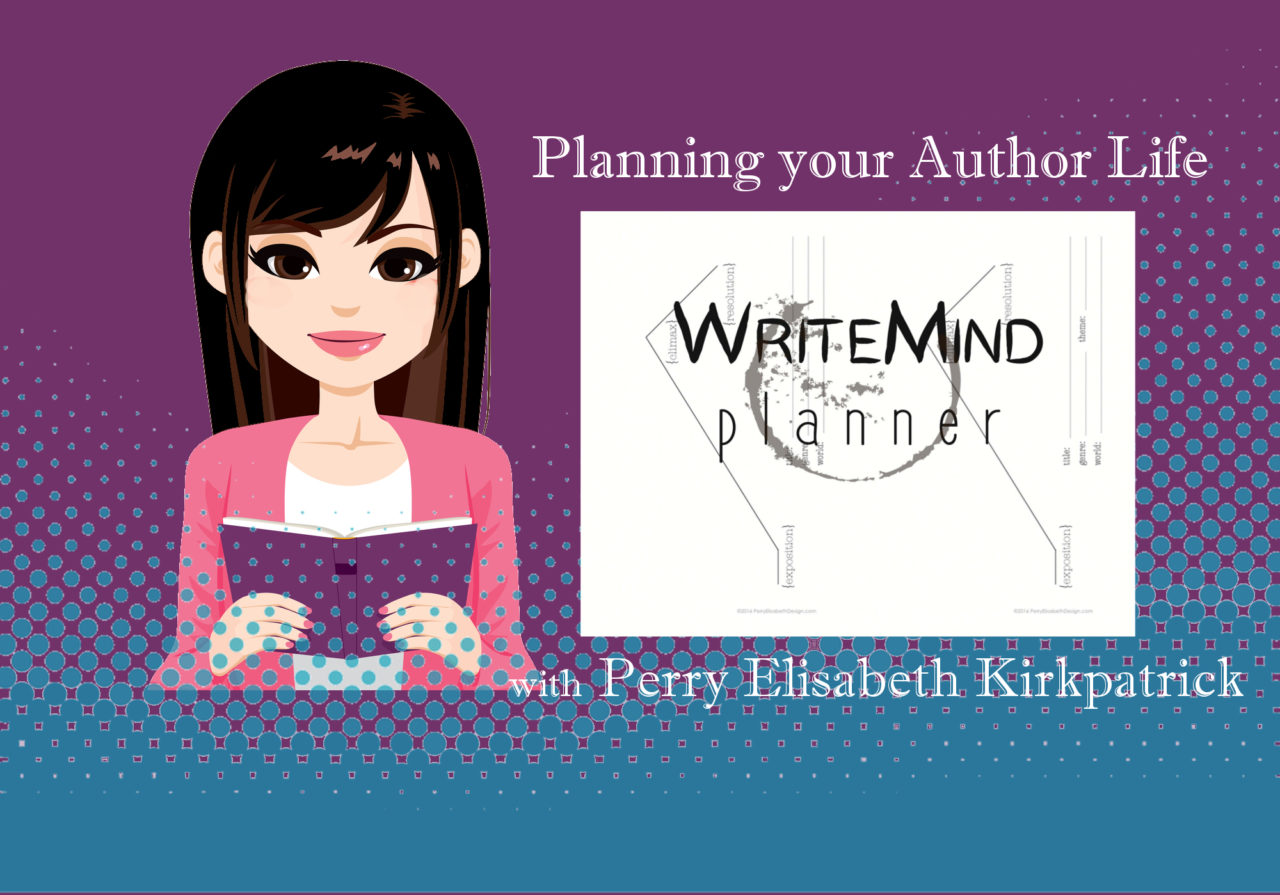 Perry Elisabeth Kirkpatrick is the author of The Kitten Files mysteries, The Accidental Cases of Emily Abbott spy series, and multiple short stories. She is also the creator of the WriteMind Planner, an organizational system for authors. She will chat about how she came up with the idea for her planner, how authors like K.M. Weiland use it for their story ideas, and how she broke into book design services.
GIVEAWAY: ** Congratulations to Louise Bergin, who is our winner! ** Like my Facebook author page and then comment by 9/27/19 midnight MST here or on my Facebook post as to why the WriteMind Planner can benefit your life. One lucky commenter will be chosen randomly to win her basic printable planner, valued at $19.99. This giveaway is not sponsored by Facebook.
---
Q. I was going to check out some of your planner products but ironically, I ran out of time. Can you tell me about the WriteMind Planner and how it came about?
A. Absolutely! I have been writing since I was a child, and I've always had the issue of generating more story ideas than I knew what to do with. I quickly learned having more than one story in progress meant none of them ever got finished.
So as I got older and more serious about my writing (an odd thing to say for someone who writes humorously…), I learned to write new ideas down and save them for later rather than either starting in on them immediately or sadly waving goodbye to them.
Eventually, though, the problem became organization. So many stories, so many snippets of witty conversation, so many intriguing character ideas… I began feeling like I'd never be able to find an idea when I ended up needing it.
Sometime in 2016, I discovered the delight that is a discbound notebook. I loved the look, that I could easily move pages around (like in a 3-ring binder, but no finger-pinching), and that I could customize the cover. This gave birth to the idea: what if I created a story idea template of sorts? I could put them in my discbound notebook and organize them however I wanted: by genre, by series, alphabetized… I quickly realized the sky was the limit and more and more pages were born. Story idea sheets, scene idea sheets, character idea sheets, setting idea sheets, wordcount trackers, to-do lists, a self-publishing checklist, a plot diagram, etc.
I shared about them on social media as I designed each new page, and the response was overwhelming: other authors needed what I was inventing for myself. On September 2, 2016, I launched the first WriteMind planners.
Q. That is amazing. I need that in my life! Where do I find the story idea sheets? Which product is it called on your website?
A. Currently the products offered on my site are the digital versions that you can print at home yourself–which is super nice if you're a person who is full of ideas. You buy the digital file once and then you can print it as many times as you need. Every digital file comes with clear printing instructions. It's super easy to then get your own discbound system (Amazon, Staples, sometimes Walmart all carry the basic notebook and special punch needed).
You can get your own story idea sheets, along with 9 other modules, as part of the basic printable planner here.
Q. Is that the product you are offering to a lucky commenter? Or will it be something else?
A. Yep! The basic printable planner is exactly what I'll be sending to the winner!
Q. Yay! I am excited for them. Okay. So I have been stalking you a bit on the internet (in a good way), and I can see that you write adult and children's fiction as well as planners. You also design books and author shirts. Correct? Did I miss anything else?
A. Haha! You're an excellent good-way stalker! You didn't miss anything, unless you want to count the writing and self-publishing blog I founded. I'm not actively posting on it, but there's still a TON of useful resources (and freebies) there from myself and other authors. You can check it out at: www.wordquill.com. Oh, and here's a test of your stalker skills… did you find my pen name?
Q. I think so! Is it Perry Elisabeth something-something? (This feels like Rumpelstiltskin.)
A. You guessed it! I'm Rumpelstiltskin! (Just kidding… did I mention I tend to write humorously?) Perry Elisabeth Kirkpatrick is my real name. I've written a YA fantasy trilogy as Denver Evans.
Q. Wow! Do you feel different each time you assume a pen name? I have thought about getting one, but haven't because I am not as organized as you.
A. I actually loved the experience of writing as Denver Evans. I didn't tell anyone about it for a while, and there was something so freeing about that. I was able to just purely enjoy writing for me without thinking of my brand or my readers' expectations (although I find that fun too). I just wrote exactly what the story wanted to be. I mean, ghostly mermaids and a misfit tinkerer with social anxiety? A mermaid book in which the mermaid isn't the love interest? No humor? So not to-market or "on brand" for a Perry book! But it was a blast. I haven't done much in the way of marketing the series or the pen name, but it was honestly a passion project and I'm just thrilled when I see it getting read here and there.
Q. I have heard about that "freedom" that comes with a pen name. That's it…I will do this someday. A genre that no one would ever expect from li'l ol' me. * evil laugh * A mermaid that isn't the love interest does sound almost sacrilegious. Good for you. So did the designer Perry come first, or the author?
A. Oh, and fun fact: the Shallows story was one of the first ideas I wrote down in my WriteMind planner!
Q. Wait… you did Shallows? That cool cover by, remind me by whom…
A. This one? I designed it!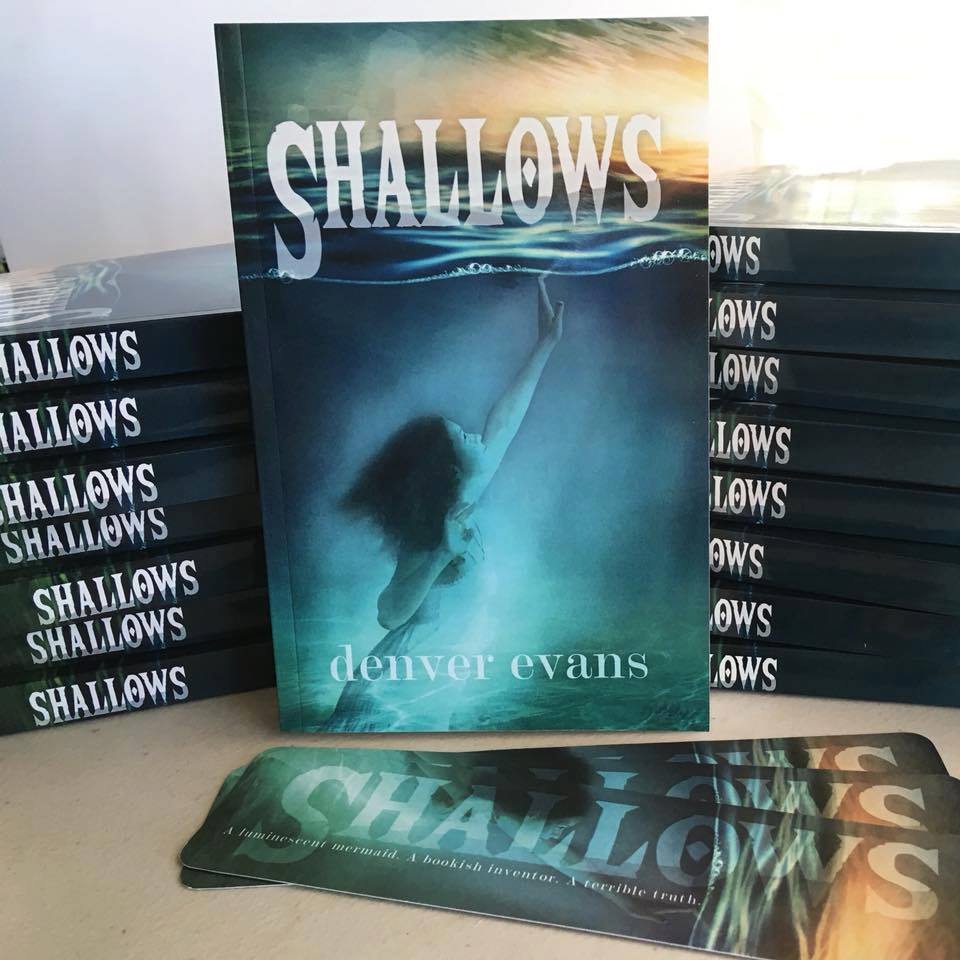 Q. Actually, that was going to be my guess. Nice! I love the title and the treatment.
A. Thank you! It was a very fun series of covers to design.
Q. So…back to my question earlier. Were you a designer before an author or vice versa?
A. I started out as an author. I had already released a few books when started very casually doing book design work for others on the side. Gradually book cover design, formatting, web design, and eventually WriteMind, grew into a full-fledged business called Perry Elisabeth Design. At one point it was actually our family's main source of income! Gradually, however, I've scaled it back to return to my first love: writing. Since then, I've written the entire Shallows trilogy and about 7 mystery novellas. It's good to back! 😉
Q. That is great. I also edit on the side though being an author is my main passion. How do you balance designing and writing in your life?
A. It has really helped me to solidify what my standard writing speed is. I know that if I'm doing word sprints with my writing buddy, I can write nearly 2,000 words an hour. If I'm not sprinting, my speed is more like 1,400 words an hour. Armed with that information, I can properly divide up the time I have for these endeavors (usually about 2 hours while my little guys are napping). If I'm on a book deadline, I don't tend to schedule design work. If I'm in between books or am taking it slower, I'll take on a project here and there.
The biggest shift in the past year or so has been that writing time goes on the schedule first, and then design work gets fit in after.
Q. Great process. So let's go back to talking about planners for a minute. As you were designing yours I wondered what you are hearing from other authors as their biggest time / organization challenge.
A. Many of them report using the planner to keep them organized as they write one book. K.M. Weiland, for example, used the scene idea sheets to plot her book. Others have reported using it as a sort of story bible to keep track of details about characters and their world so they could easily look up, "What color did I say his eyes were…?" No matter if they are plotters or pantsers (because it's versatile enough for both types of writers!) or something in between, people seem to really appreciate knowing that all of their writing-related notes are in one spot, where it's easy to organize the pages however makes most sense to them, and therefore easy and quick to find what they're looking for.
There's nothing like having to stop in the middle of a good writing session to dig through the archeological layers on one's desk for the scrap of paper you jotted something on. Don't ask me how I know. This may or may not have been my life prior to inventing this planner.
Q. Yes! I am always trying to remember the eye color. Or what breed someone's dog is. I don't know about others, but for me, I could start a planner strong, and then peter out after a while. Do you have any tips so that we "stick with the program"?
A. This is going to sound odd, but I find I use mine most when I keep it closed. Let me explain: if I can see the cover, I'm more likely to look over at it and remember it's there and that I love using it. I'm more likely to say to myself, "Oh, I should grab that pretty planner and jot down the idea that's been simmering in the back of my mind all day!"
Another thing that has helped me is keeping a few of the idea sheets tucked into my purse (I've even folded them in half if I'm using a small handbag at the time). That way, if I'm out and about and have an idea, I can jot it on a page that will fit right into my planner when I get home. Otherwise, I tend to type it up on my phone and promptly forget about it.
Q. Great idea! Speaking of keeping covers closed. So I went to Amazon and there are lots of discbound notebook options. I am leaning towards getting a white one. What size should I get to fit your pages?
A. The WriteMind pages are 5.5″ x 8.5″ or half a sheet of letter-sized printer paper. Anything that takes pages that size will work perfectly!
Q. Good. That's a nice size. Is there a calendar in the system? And is it generic so you just fill in the dates? Or are the dates pre-printed?
A. Yes, there is a calendar included in the basic planner. It's set up to allow you to track your wordcount and has some space left over to jot other things like deadlines and marketing days and such. I also have two other calendar options that don't include the wordcount tracking. These are add-on modules available separately here. I designed this system to be as customizable as possible.
Q. I am excited to try the WriteMind Planner. I will report back to you with my progress.
A. I hope you enjoy the planner and that it helps you the way it's helped me and others!
Q. I think it's cool that you've come up with this system because I think us writers are an odd, OCD lot, and we always like to write things down. This beats the "scrap paper" technique. Last question. What fiction / planner project/s are in your horizon? (Actually, I lied, I think I might have another question.)
A.I just finished rapid-releasing season 1 (6 books) of my humorous spy / mystery series, "The Accidental Cases of Emily Abbott". I now owe the fans of my other series, "The Kitten Files" book 5. Then I'll be working on Emily Abbott's season 2.
Q. Last last question…why did you go digital instead of offering a printed version of your planner?
A. I actually did offer a printed version of the planner at first. The option to buy it digitally and print at home came along later as people requested it. Each physical planner was hand-assembled, and I reached a point where I was experiencing some health issues that made it difficult to keep up on the orders. So I scaled back to just selling the digital version. It would be nice to offer the physical version again eventually… who knows what the future holds!
Q. Thanks so much Perry, for your time! It's been fun chatting you up and I wish you the best with your future projects.
A. Thank you so much for having me! This was quite fun!
---
P.S. I bought Perry Elisabeth Kirkpatrick's WriteMind digital planner and printed it out. I ordered a Staples Arc punch and once that arrives, I will combine WriteMind pages into this Talia discbound notebook. The customizable 8.5 x 5.5 inch notebook is pretty, a nice size, and comes with a little protective pouch. I have already started using it to jot down my story ideas and to-do list.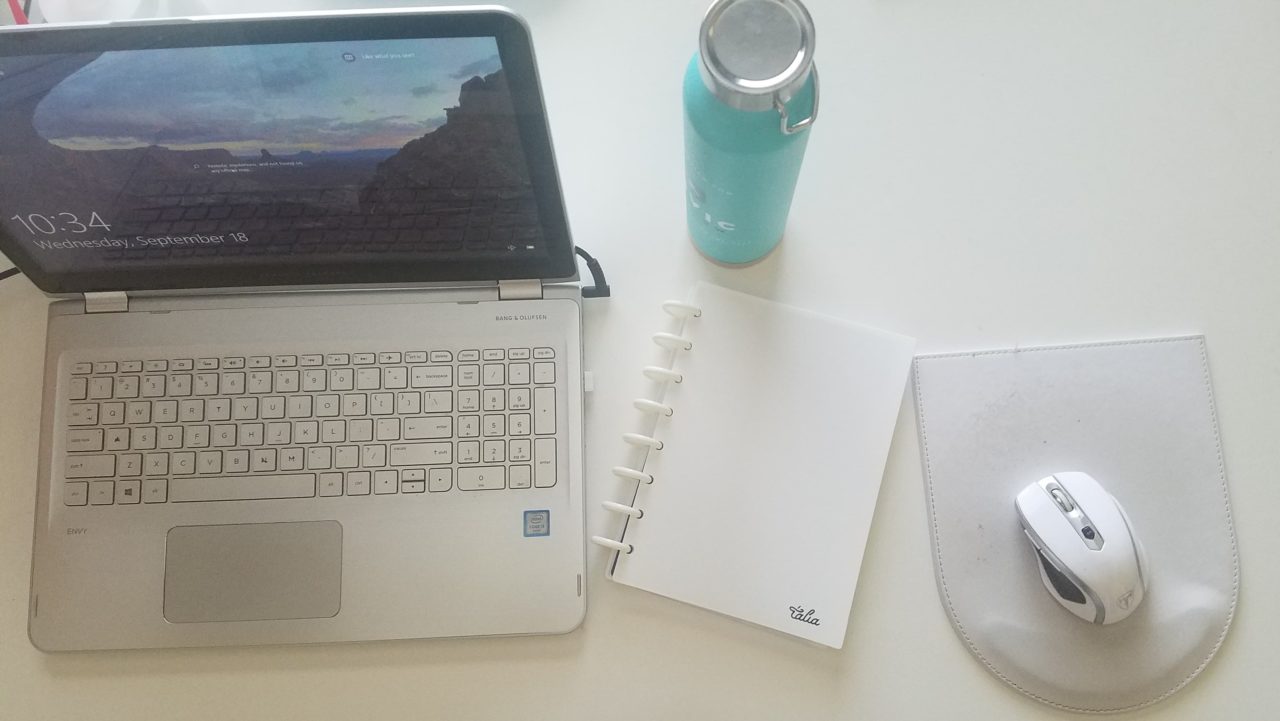 GIVEAWAY: Like my Facebook page and then comment by 9/27 midnight MST here or on my Facebook post as to why the WriteMind Planner can benefit your life. One lucky commenter will be chosen randomly to win the basic printable planner, valued at $19.99. This giveaway is not sponsored by Facebook.
Photo is for illustration purposes only. Giveaway includes digital planner pages that you can print and include in a discbound notebook.
---
Check out Perry Elisabeth Kirkpatrick's WriteMind Planner and Amazon page.
Subscribe to my newsletter for Q&A alerts, writing tips and publishing news. Check out my books here.